Cable Hangers for Messenger Wire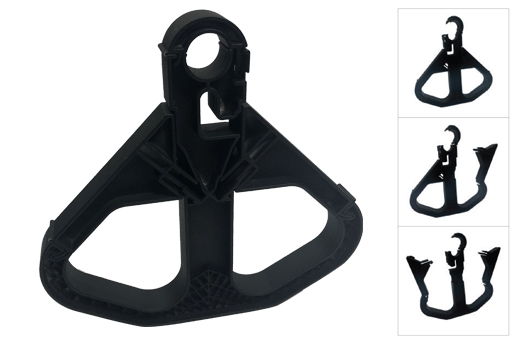 Snake Tray® New Solar Click-n-Go Cable Hanger – Double
One Cable Hanger That Manages All the Cables For Endless Possibilities Over Any Terrain!
Snake Tray's new cable hanger designed with double cavities offers endless possibilities to manage cables up to 1250 Kcmil over a variety of terrain. Constructed of lightweight, eco-friendly rugged polycarbonate and ergonomically designed, the hanger installs quickly to reduce time and labor costs by 50% by doing the job of multiple hangers. Move all your East/West cables with one cable hanger!
Accommodates any size cable up to 1250 Kcmil
Holds up to 300 Lbs.
Ultra-narrow profile, light weight and corrosion free
Easy and fast installation reduces labor costs
Safe installation through special click closure system
Lightweight, eco-friendly, rugged polycarbonate construction with up to 30 years of UV protection
Exceptional reliability in extreme weather conditions
Compliments the Solar Snake Max XL system by feeding the cables East/West
Have Questions?
Talk to a product specialist today:
1-800-308-6788