301 SERIES SNAKE CANYON® LATCH-LOC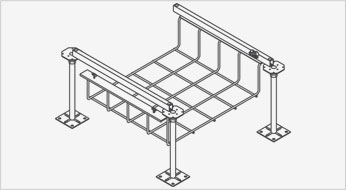 Latch-Loc Snake Canyon quickly installs to a computer access floor by latching onto the floor pedestal above the height adjuster nut. Latch-Loc Snake Canyon's all-in-one piece design instantly gives you a high capacity cable path that can hold close to 3000 data cables. Latch-Loc Snake Canyon is available in five depths in full or half basket sections and can be utilized with other Snake Canyon models to create bridges where floor tiles are not readily removable.
Benefits
Quick latching system mounts to the pedestal
Half sections available for easy access below the cable plan
Trays nest together for compact and cost effective shipping and material handling
Have Questions?
Talk to a product specialist today:
1-800-308-6788