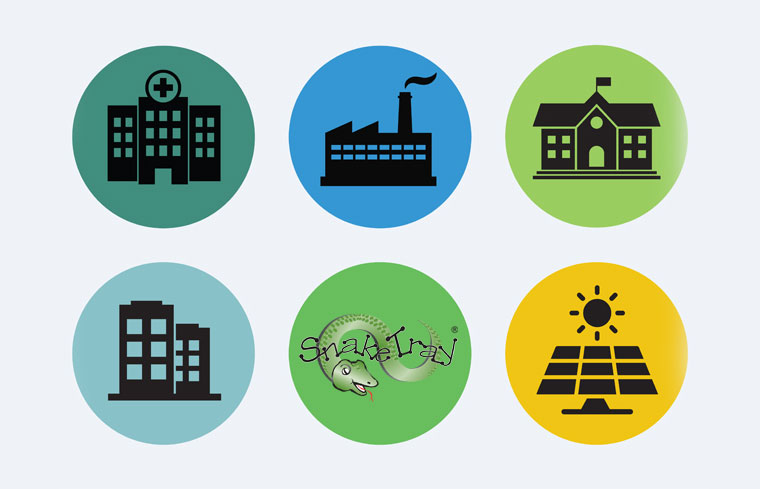 Snake Tray Has A Cable Management Solution For Every Industry
Any architect will tell you that cable management is now a key consideration when designing new smart buildings or renovating old structures. Whether harnessing energy from the sun, sharing data across the network, or using occupancy sensors to control room environment, everything is wired…even mobile devices are only wireless as the last link in the chain.
Once an afterthought, concealed cable pathways must be accounted for during the earliest stages of project development. There are just too many cables, and they can't be left lying on top of dropped ceiling panels or in a twisted mess under the floor. Unorganized cables are unsafe and easily damaged – especially delicate fiber optic lines – while tangled cables are difficult to trace for repair or replacement. Unsupported cables put undue stress on termination points. Bundling cables can help, but that can result in crosstalk and unsafe heat buildup from cables tightly wrapped together.
To meet the needs of today's modern structures cable management systems are required to bring connectivity to every corner of every building. Cable trays provide consistent horizontal support and create end-to-end pathways through which installers can easily load and service cables without tension. Cable trays speed project completion, minimize labor and installation costs, and maintain code-compliant cable separation, protection, and organization across the entire length of every run.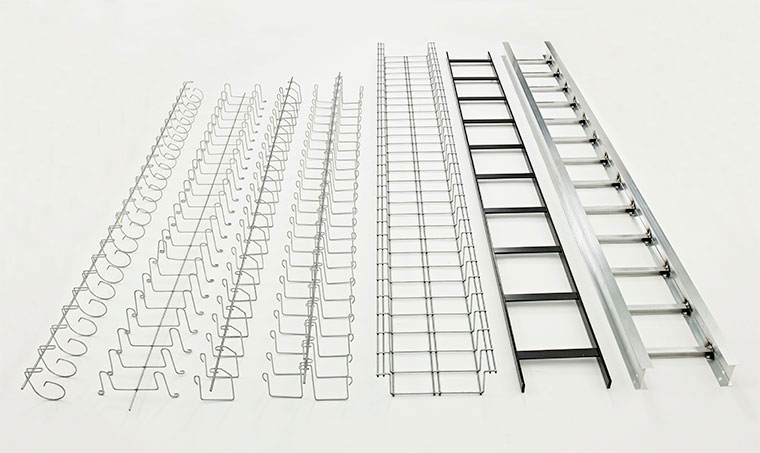 Snake Tray is Your One-Stop Shop
It is impossible to design a single cable conveyance system for every modern application. Yet that is how the industry was born. There was a time when rigid basket trays and heavy duty steel and aluminum ladders were used for every job from small telecom closets to the largest data centers and factories. That meant these systems were often overbuilt. Spec'd to carry large volumes of high voltage cables, they were quite expensive and required time consuming on-site fabrication to attach mounting struts, navigate around obstacles, and make directional changes.
Snake Tray recognized the need for more affordable, flexible cabling solutions that eliminate overkill and speed installation when carrying smaller loads of low voltage, ethernet, and fiber optic cables. Today Snake Tray offers a broad selection of cable management systems in multiple section lengths, widths, and depths to handle the various cable types and volumes required by any industry. Whether you need a hand-bendable tray, a basket tray, a pathway under raised access flooring, or a heavy duty steel or aluminum ladder (yes, we make those too), all Snake Tray cable management systems offer the following advantages:
Made from recycled high strength steel or aluminum – a green solution, our trays are reusable and reclaimable.
Do not require field fabrication – hand-bendable trays easily work around obstacles, or quickly attach prefabricated turns and Tees to our rigid wire basket trays.
Built-in mounting hardware – offers flexible mounting options with minimal parts.
Zero waste – no cutting, no clipping, no extra pieces.
Reduced labor costs with faster deployment – no special tools or skills required; sections connect in seconds.
Nested design for denser packing – easier handling plus reduced transportation costs.
Open architecture speeds cable loading – easy access for additions, changes, and repairs.
Proudly designed and manufactured in the USA – meet federal requirements for domestic building components in government bids.
Cabling Solutions by Industry
So how do you know which is the right Snake Tray for your job? After all, a hospital environment is very different from a data center, school, factory, subway tunnel, or solar power utility. With over 25 years' experience designing cable management solutions for all types of industries, allow us to scope out for you the cabling considerations and appropriate Snake Tray solution for a multitude of vertical markets. For each sector we'll point out related content so you can dig deeper into how similar customers arrived at their Snake Tray solution.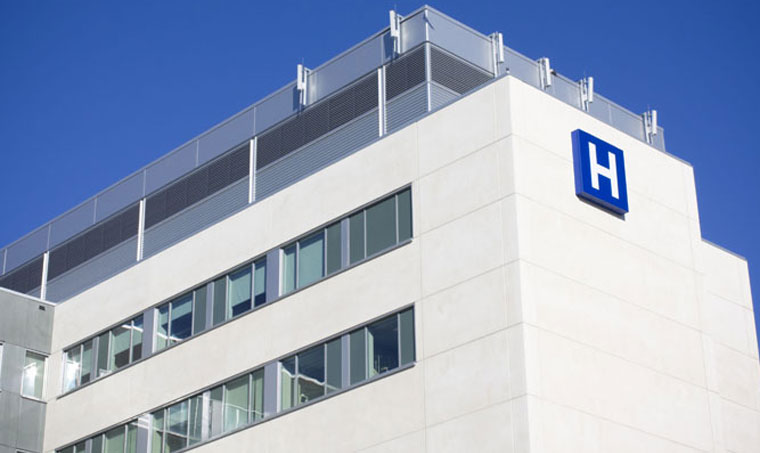 Hospitals & Healthcare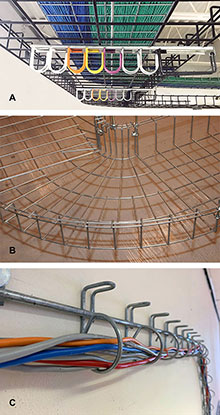 This industry is unique in that cable pathways cannot intrude over patient care spaces. Technicians must be able to freely access cables for maintenance or repairs without entering patient rooms, surgical suites, or testing labs. That means cable pathways are limited to following hallways. Complicating matters is that in addition to voice, data, and electrical lines, there are cables supporting life-saving machines, monitors, and other critical services that drop off at every room, making for a lot more cables packed into those tight corridor pathways.
In new healthcare facilities, the 801 Series Mega Snake (A) is an excellent solution for keeping large amounts of cables supported and separated. Prefabricated sections constructed from quarter-inch galvanized steel wire including turns and crosses (B) make it easy to follow hospital corridors. Read our case study on how Snake Tray helped a hospital in Cleveland open on schedule.
When upgrading older hospitals, assisted living facilities, and nursing homes built before the Information Age, our hand-bendable family of cable trays like the 454 Series Universal Cable Tray (C) is a flexible solution to bring digital services to every room in structures that were not designed for connectivity. The 454 Series is easily concealable, securely traverses long distances, offers versatile mounting options, and enables installers to quickly navigate around obstacles and elevation changes without any special tools or on-site fabrication. Check out this blog to learn how Snake Tray helped modernize a NYC hospital campus built decades ago.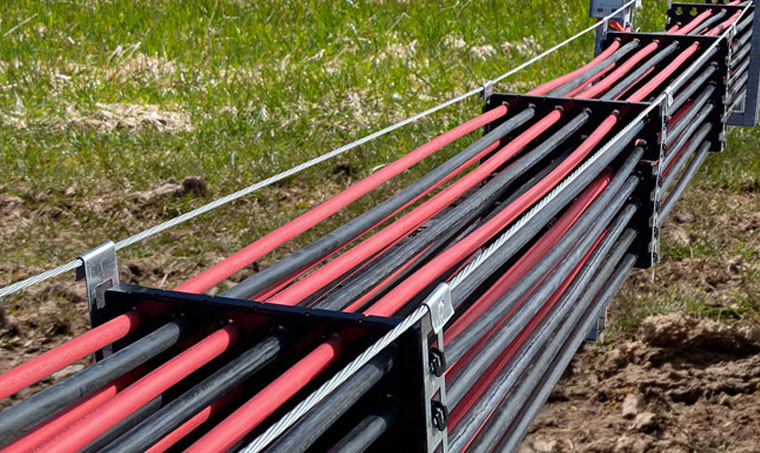 Solar & Renewable Energy

There are basically two kinds of commercial solar installations, those that are installed on building rooftops and covered parking lot structures with a few dozen to a few hundred panels (D), and massive utility-grade solar plants with hundreds of thousands of panels pointed at the sun (E). The former is usually used to offset a property owner's electricity costs (like a data center) with clean energy production, the latter is meant to generate hundreds of megawatts of power for the local public utility to sell to the community it serves. Each has unique cabling requirements.
For solar rooftop and parking structure installations, Snake Tray offers the 407 Series Solar Snake Tray (F), the world's only weatherproof, hand-bendable cable conveyance system that quickly and securely carries low ampacity DC feeder cables from the solar panels to their terminations. The 407 Series offers built-in mounting rings for flexible mounting options and features a patented "lobster trap" design for effortless cable loading and to secure cables against winds up to 120 mph. Read more about Cabling a rooftop solar array here.
When it comes to cabling utility-grade solar plants and wind farms, Snake Tray offers an alternative to burying cables. Solar Snake Max (G) uses a series of brackets and separators to support up to 36 high amperage DC power cables along tensioned messenger wire or aluminum rail. Besides eliminating the messy and expensive process of trenching, Solar Snake Max is the world's only free-air cable conveyance system that eliminates derate, which enables utilities to harvest 100% of the energy produced. Learn more about how Snake Tray can improve your utility's bottom line in our whitepaper, Solar Snake Max XL: The Best Solar Cable Management System Under the Sun.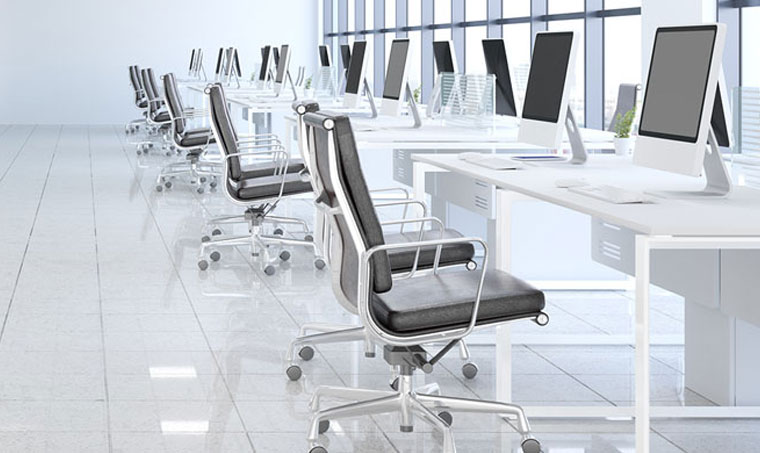 Commercial Spaces and Offices

Commercial spaces are different in that property owners need to be able to reconfigure retail stores and leased offices quickly and affordably for new tenants. Social distancing policies have also forced many businesses to rearrange existing workspaces as employees return to the office. Versatile cable management and power distribution systems allow for fast space reconfiguration by eliminating the time consuming and expensive process of moving hardwired power and network drops to new locations.
Overhead, solutions like the hand-bendable 454 Series Universal Snake Tray (H) and the 401 Series Snake Race (I) easily install in the concealed spaces above dropped ceilings to bring power and connectivity to the point of need without drilling or running pipe and wire.
Increasingly, many commercial buildings such as banks, medical suites, and corporate offices are being designed with raised access floors. This allows architects to conceal critical subsystems and ductwork, improve airflow, and maximize square footage while preserving easy access for maintenance and reconfiguration. Snake Tray offers a number of solutions that leverage a portion of the same underfloor space for cable management and power distribution to give property owners needed flexibility to modify workspace layout for any reason.
The 101 Series Snake Tray (J) mounts directly to the floor and is hand-bendable to route power and data cables over any obstacle.
The 301 Series Snake Canyon(K) is a modular basket tray designed to integrate with any standard 2′ x 2′ raised access floor grid to create an elevated cable pathway safely separated from under floor power and utility lines and HVAC ductwork. Simply lift the floor tiles and drop in a basket.
To get power where it needs to go, the modular Snake Bus (L) system uses innovative bus bar technology to create an underfloor power distribution system for spaces up to 1,000,000 square feet that can be infinitely moved and reconfigured as needed. Check out this blog to learn how Snake Tray is helping employees return to the office, and download our white paper on How to build flexibility into office design with prefabricated power and cable management systems.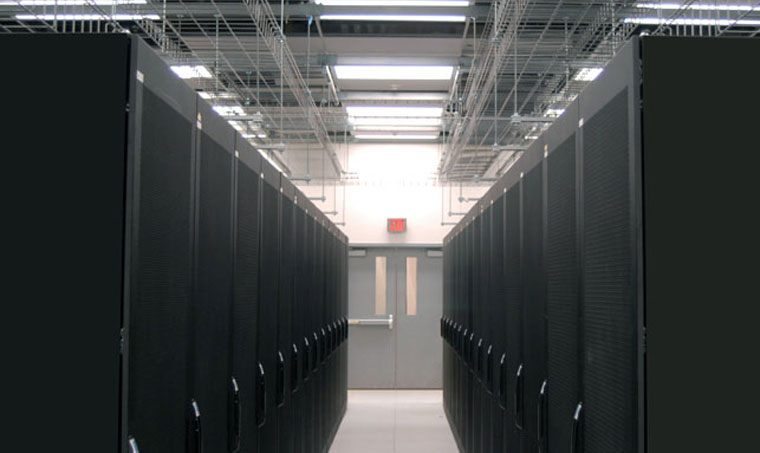 Data Centers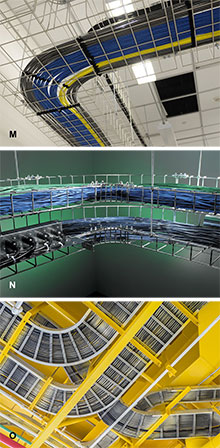 Perhaps the number one example that comes to mind for cable management is the data center. These massive buildings house miles of network and power cables to process data with the help of hundreds of servers, thousands of connections, and tons of cold air.
(On the roof, many data centers have installed solar arrays to offset energy costs. Further, most data centers have redundant power supplies or battery backup/storage systems to provide power in the event of an outage to the primary source. That's more cables! Check out this blog on how Snake Tray is supporting the use of renewable energy in data centers to lower costs.)
he size and age of the data center will impact its cable management needs. Smaller, older facilities may be built on raised access floors with forced air cooling from below. For those environments, Snake Tray offers the 301 Series Snake Canyon to bring power and connectivity to every rack with restricting air flow.
Newer macro data centers may opt for overhead cable management. The 801 Series Mega Snake (M, N) is designed to be mounted to walls, suspended from the ceiling, or attached directly to the top of server racks and cabinets. Strong as steel yet flexible, prefabricated turns eliminate labor intensive cutting and clipping to speed installation.
For the heaviest cable loads in rugged environments, Snake Tray offers the 653 Series Aluminum Cable Tray (O). This lightweight ladder handles tremendous loads of high voltage cables to power the largest data centers without sagging. Learn more about the basics of data center structured cabling in this blog, and then take a deeper dive into the evolving world of data center cabling in our white paper, Data Center Construction: Living On The Edge.
Schools & Universities
All across America are thousands of older elementary, middle, junior high, and high schools of cinderblock construction with classrooms connected to nothing except the loudspeaker in the principal's office. The same issues plague many older college campuses, only magnified by the size of the institution. This is especially true in the residence halls at universities that were built before students used laptops and required continuous connectivity.
So, the question becomes, how do you affordably add modern networking capabilities to antiquated classrooms and dorm rooms separated by six inches or more of concrete?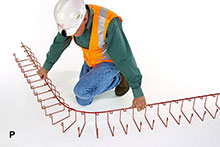 One solution popular in this vertical is the 201 Series Snake Tray (P). This extremely versatile tray is excellent for light loads of networking and low voltage cables. The 201 Series offers built in mounting rings and can be attached to walls or suspended from the ceiling. It is hand-bendable, compact, and lightweight, so installers can easily maneuver it through holes drilled in the side walls of each room to create new cable pathways. Find out how Snake Tray helped Modernize six multi-story residence halls at a major New York university with minimal intrusion on students' living space by reading this blog.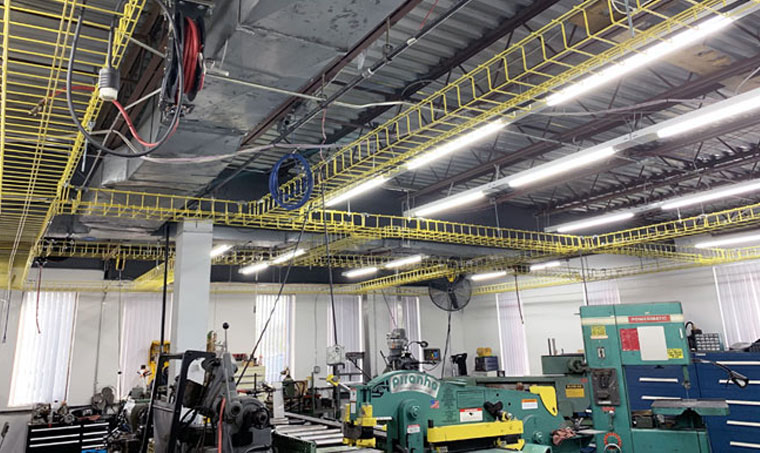 Factories & Distribution Centers

Nowhere is there a greater call for safe and secure cable management than in manufacturing plants, warehouses, and today's hyperscale distribution centers. In these environments automation is everywhere and everything is on the move. Whether a milling machine, assembly robot, or package scanner, everything is connected for things like quality control monitoring or to track shipping milestones as an order is processed.
Factories need to be able to quickly retool assembly lines, add capacity, or change out equipment. Rather than running pipe and wire to a fixed location to power and connect each machine, the 801 Series Mega Snake (Q) preconfigured basket trays are perfect for aligning cables and drop-offs with the layout of machines on the factory floor below. The 501 Series Wall Snake (R) is excellent for traversing long distances. The 501 Series can be bent by hand in any direction along any plane to create a custom fit to match the contours of any vertical surface or structure. At industrial sites where metal clad cables are used to protect wires from the external environment, Snake Tray offers the 701 Series MC Snake Tray (S), specially designed to handle metal clad (MC) cables. Read this blog to learn Why cabling the modern factory is easier with Snake Tray.
In distribution centers there are literally miles-long stretches of twisting motorized conveyor belts, rollers, and gates that direct packages to the proper loading bay using data scanned off shipping labels. The cables that power the belts, sensors, and scanners run alongside.
Snake Tray hand-bendable solutions like the 454 Series Universal Snake Tray or 201 Series Snake Tray (T, U) easily attach to the side or underside of the conveyor belt system with the flexibility to mimic the twists and turns of the conveyor path without any on-site fabrication.
In fact, the 787 Series Conveyor Snake (V) is Snake Tray's newest hand-bendable cable tray specifically for attachment to the outer side rail flange of conveyor belt systems used inside distribution centers and warehouses. You won't find the 787 Series in our catalog as this thin-profile cable tray was designed to the specifications of a major conveyor belt manufacturer to meet their unique needs. But Snake Tray has the capability to design and build a cable conveyance system customized to any conveyor belt system. There's a lot more to package delivery than meets the eye. Download our white paper, Modern Distribution Centers & Snake Tray: A Perfect Match, to learn what goes on inside a distribution center, and the options to cable it.
A Snake Tray For Every Industry
As noted in our final distribution center example, Snake Tray has the ability to design and build customized cable management solutions for virtually any application. For over 25 years Snake Tray has been helping architects, engineers, and electrical contractors solve their most complex cabling challenges across all types of environments. If you don't see the exact solution you need to execute your next project with maximum efficiency and reduced labor costs, please contact the Snake Tray Team. We'll be happy to create one with you.