Data centers are like 21st century gas stations; there's one popping up on every corner to handle the flood of network traffic. The difference is, you don't see the pumps. But they're there, pushing out the fuel – data – that drives our digital economy.
Some are very large, occupying millions of square feet. Others are very small, fitting into a closet. Some serve public clouds, some are private to the enterprise, and others are co-location facilities hosting multiple data centers. One key industry trend today is moving data to the edge. Service providers are dotting the globe with micro data centers, small yet powerful servers placed closer to users to improve performance by reducing latency. Whether large or small, public or private, every data center has one thing in common: miles and miles of cables connecting server racks, routers and wireless antennae.
Regardless of the size of data center, efficient design impacts the time and cost to bring new facilities online, and this applies to cable management as well. No two projects are ever alike. Despite engineers' best efforts to implement cookie-cutter designs, there are always variations to contend with due to preexisting conditions, nuances in building architecture or geography. However, it is possible to standardize basic floorplans and employ prefabricated yet flexible subsystems to speed construction and reduce costs. Preconfigured cable conveyance systems eliminate on-site fabrication of wire baskets, as well as the special tools and additional labor required to make them.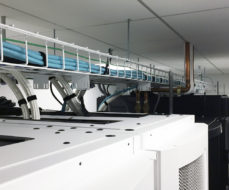 In fact, many existing data centers, especially co-location sites, expressly prohibit contractors from cutting and grinding tray segments inside what are essentially cleanroom environments. Prefabricated trays therefore not only save time during actual installation, but also the time it would otherwise take installers to walk the tray segments outside and back in each time they need to make a cut, build a turn or manage a change in elevation.
Snake Tray offers two types of prefabricated overhead cable management trays designed to ensure the proper spacing, turn radii and consistent support of all cables in a data center. The 801 Series Mega Snake is designed to be mounted to walls, suspended from the ceiling or attached directly to the tops of racks and cabinets. Strong as steel yet flexible, Mega Snake is premanufactured in straight segments, turns, Ts and crosses for a predictable, uniform solution. Its built-in suspension system eliminates costly brackets, and an easy to install splice kit quickly creates both a mechanical and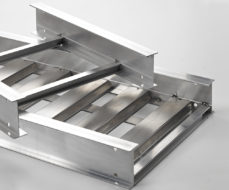 electrical bond.  The 653 Series Aluminum Cable Tray is perfect for those data centers with heavier overhead cable loads. Available as both ventilated and non-ventilated trough types in a variety of widths and lengths, these lightweight sections are easy to install yet offer a high loading capacity to manage larger cable runs. Heavy duty brackets, fittings and support accessories are available to create a customized high capacity cable conveyance system for any environment.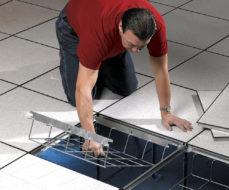 The 301 Series Snake Canyon is the preeminent cable tray management solution for use under raised access floors. This patented modular system is compatible with any brand or type of access floor including stringerless floors. Snake Canyon fits under any size 2′ x 2′ floor grid and offers integrated power distribution accessories to meet data center cabling needs in one solution. Simply lift the floor panels and drop in Snake Canyon segments to create a new cable pathway safely separated from under floor HVAC and utility lines. There's no complicated hardware, cables are kept organized and out of sight, and the trays can be moved and reused as needed.
Whether your next data center calls for overhead or under floor data center cable trays, for a micro data center or a facility occupying millions of square feet, Snake Tray has a flexible solution. All Snake Tray products can be used for copper unshielded twisted pair, coaxial and fiber data lines as well as for power distribution, and all splices are UL classified as EGC (Equipment Grounding Conductor) safe. Mega Snake and Snake Canyon are both designed for easy cable loading and simple post-install access to make changes, repairs or additions. Snake Tray also offers steel and aluminum cable runways for heavier load capacities. And all of our products nest together for compact and cost effective shipping and material
---
Snake Tray has revolutionized cable management with structured yet flexible products designed to install quickly, reduce labor and material costs, and significantly drive down the total cost of data center construction. If you would like to learn more, visit us at Snake Tray. Our engineers and sales teams stand ready to help you design your next cabling project with maximum speed and ROI.