With a turbulent economy and new COVID-19 restrictions on the job site, efficiency and predictable results are critical for electrical contractors. They need to get in and get out as quickly as possible and accomplish the job with minimal manpower. Snake Tray provides a wide range of cable management systems that support COVID-19 restrictions by allowing buildings to be wired faster by fewer people on the job site and enable "waterfall" construction practices.
In the good ol' days, say 30 years ago, wiring a commercial building wasn't all that difficult. Besides pulling 120 V Romex cable for lighting and AC power outlets, there were just a few lines for telephones and a computer here or there. Cable pathways were either non-existent or an architect's afterthought; contractors never knew how they were going to wire a building until they got on site and peeked above the ceiling tiles. A tennis ball tied to fishing line was a high-tech tool for defining pathways. The trays available at the time were made of non-bendable aluminum and required time-consuming field fabrication to cut and build crosses, changes in direction or elevation, and fittings for mounting. They were expensive, bulky, and sometimes difficult to fit in tight interstitial spaces. Labor costs mounted as each turn would take an installer 10 to 15 minutes to fabricate. Bigger trays took more time. Multiply that by a hundred or more transitions per project and it's easy to see how deadlines and profitability can go sideways.
Today's "smart" commercial buildings are designed with central nervous system-like complexity. In addition to running high voltage lines for lighting and AC power, there are hundreds of low voltage cables crisscrossing every floor for data and voice communications, alarm and card access control (CAC) entry systems, video surveillance, HVAC programming and even LED lighting systems. Everything is connected to each other, and in turn to the building itself through the building management system (BMS) for intelligent climate control and automated energy savings. This creates the need for well-defined cable pathways during the design of a building, as well as the need for simple, fast and affordable cable tray management systems to carry the load. (Actually, two pathways running in parallel as heavier high voltage lines are usually separated from low voltage data and voice cable runs).
Perhaps the biggest impact of COVID-19 on the construction industry is the issue of worker safety and social distancing. Contractors are wrestling with the question of how to get jobs done on time and profitably with restrictions on how many people can be on the job site simultaneously. New tools and methods must be developed. Gone are the days of overlapping construction with electricians, plumbers, painters, sheetrockers and flooring installers working side by side. To reduce worker density and maintain social distancing practices, each phase of building construction must now be synchronized and completed in linear fashion before the next crew can move in. It is incumbent upon contractors to find solutions that will allow them to do the same job with a minimal workforce in minimal time.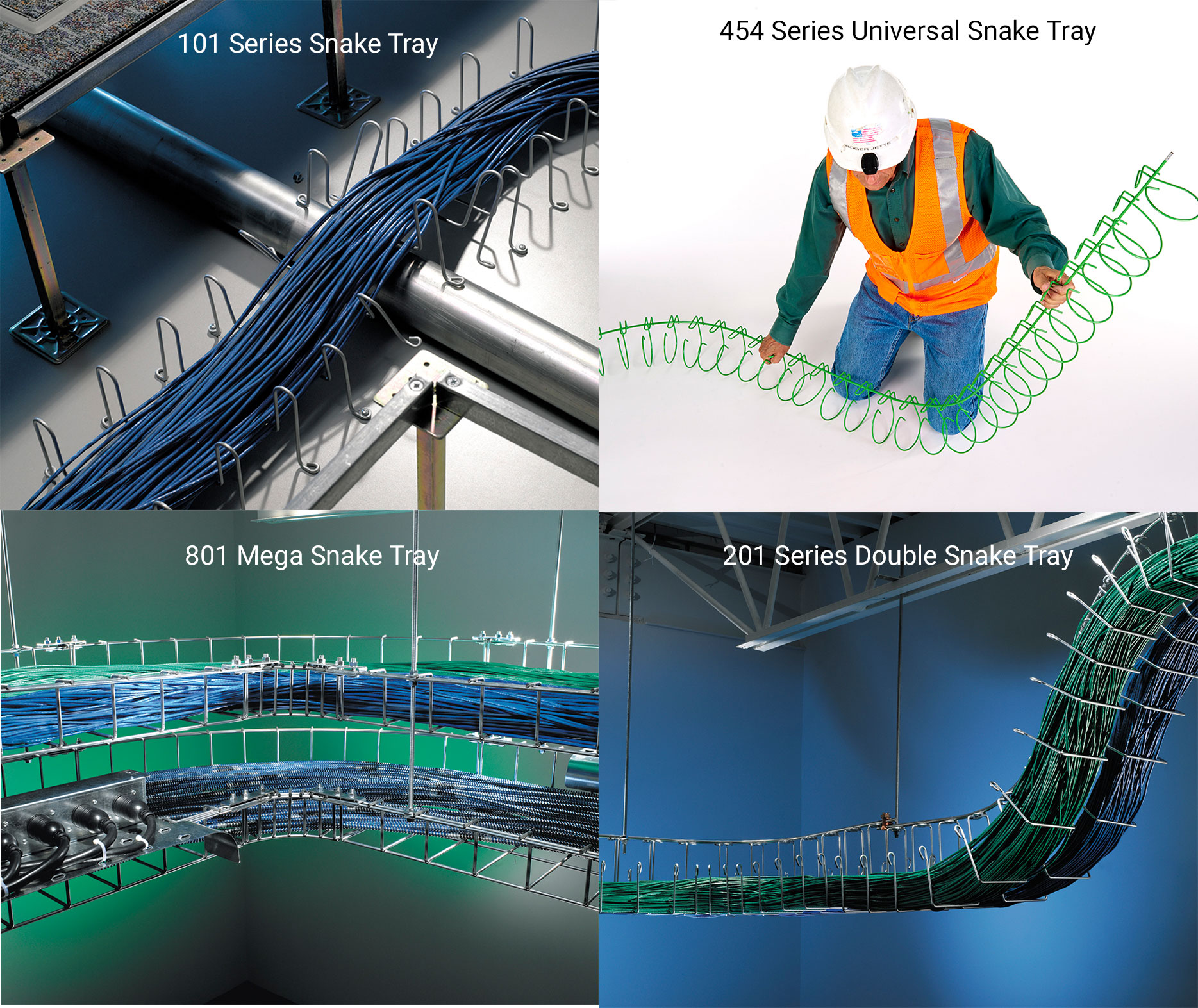 Snake Tray offers a number of cable conveyance systems intended to do just that. The Snake Tray 101, 201, 454 and 501 Series are hand-bendable, wire basket-type trays designed for fast and simple installation. They allow electrical contractors to be more efficient and profitable through significant labor cost reduction. Available in eight-foot sections in a variety of loading diameters, these modular lightweight trays nest together for easy handling by a single installer. No on-site fabrication is required, and cost estimation is simple. All Snake Tray cable management systems are manufactured with integrated mounting rings and can be bent into the desired shape in 10 to 15 seconds. No special tools or fittings are required. (For higher capacity cable runs, the modular 801 Series Mega Snake drastically reduces labor and installation costs. Though not hand-bendable, the 801 Series offers pre-manufactured turns, T's, and cross sections that eliminate laborious cutting and connect in less than one minute.)
Negotiate sweeping turns and changes in elevation while maintaining optimal cable support and proper bend radii for the length of the run. Easily route cables around obstacles whether overhead or under floor. Build risers to run cables up vertical surfaces. Traverse open spaces with simple threaded rod suspension systems that eliminate the need for costly brackets and struts. Do it all with zero material waste, using a smaller team, and in a fraction of the time and cost of using traditional metal cable trays that require cutting and field fabrication.
Snake Tray lets electrical contractors get in and out quickly (and profitably), so the next phase of construction can begin on time and on budget. But low and high voltage Snake Tray cable conveyance systems are only half the story. In part two of this blog, we'll look at how Snake Tray solutions for cable management and power distribution underneath raised access floors also improve profitability and reduce manpower requirements to allow electrical contractors to meet COVID-19 restrictions on the job site.
---
Snake Tray has revolutionized the data and power distribution market with cable management, power distribution systems and enclosures all designed to install quickly, reduce labor and material costs, and significantly drive down the total cost of construction. If you would like to learn more, visit us at Snake Tray. Our engineers and sales teams stand ready to help execute your next cabling project with maximum efficiency and profitability.