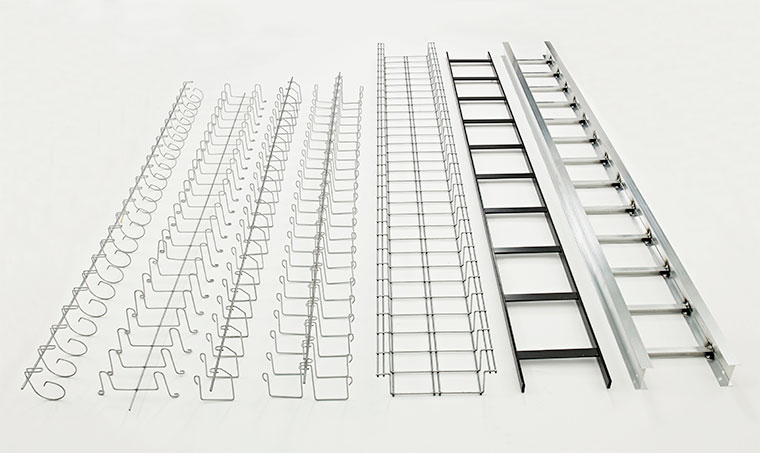 WHY IS CABLE MANAGEMENT NECESSARY?
We live in a mobile world. It seems like everything these days is wireless, paperless, and touchless. We pay for groceries with a tap of a card, present a digital airplane boarding pass on your phone for scanning, and get the up-to-the-minute news delivered right to our pockets. Sensors automatically open doors, turn on lights, and intelligently manage climate control.

But it's not magic. Behind all this convenience and automation is a complex and often well-hidden infrastructure of data networks and cables that bring information, communications, and power to and from every device and user. Even wireless networks are wired; it's only the "last mile" that offers cable-free connectivity.
Think about networking cables, and hyperscale data centers, corporate IT departments, and internet and cable TV service providers come to mind. Think about power cables, and solar plants, utilities, and automated factory assembly lines with high amperage energy transfer applications are common.
There are also miles and miles of data network and power cables running alongside trains in subway tunnels, inside commercial office buildings, college dormitories, hospitals, warehouses, distribution centers, trading floors, call centers, airports, and countless other "smart" buildings.
The cables themselves may be copper twisted pair, coaxial, fiber, ethernet, low voltage, or high voltage wires. They may be installed on a rooftop parking structure, above dropped ceilings in a bank or hospital, run over the top of data center server racks, ground mounted via tensioned messenger wire beneath a field of solar panels, running parallel under conveyor belts in a distribution center, under raised access floors in a call center, or buried underground.
Whether collecting power from solar arrays or distributing data, cabling is the common denominator across every industry and structure that requires electrification and network connectivity. The building may be new construction or a renovation project, but the outcome is the same. To maximize performance, minimize installation costs, speed repairs, and maintain code compliance cables must be protected, organized, and properly spaced and supported across the entire length of every run.
There are several ways to go about planning and implementing cable management systems, from simple zip-tie bundling to wire basket trays to heavy duty aluminum and steel ladders. There are also many manufacturers to choose from. But there's only one Snake Tray.
Snake Tray is your one-stop shop for all types of cable conveyance and power distribution solutions spanning rooftop to underfloor, for all kinds of cables from low voltage power over ethernet (POE) to telecom to high ampacity utility-grade solar cables. This article will review the general benefits of cable management, the specific advantages of using Snake Tray products, and the many product families and appropriate applications for each. Links to related articles and case studies with more detail are presented.
Snake Tray's Prefabricated Cable Management Systems Speed Installation to Reduce Total Cost of Ownership
THE BENEFITS OF CABLE TRAYS
If you are seeking to break the very spirit of your IT staff, then the spaghetti method of cable management is for you. We say that tongue-in-cheek, but there are many examples of cabling nightmares. Many evolved from the ad-hoc additions of servers, routers, and switches over time. Others result from the use of excess lengths of cable or failure to remove obsolete or damaged cables from a bundle. Some maybe from a lack of caring about looks, just as long as everything works.
General Cable Management Benefits
A cable management system – virtually any cable management system – will aid in cable organization. It will speed installation, eliminate knots and tangled cables, provide better visibility to exact cables and terminations for repairs, and minimize overall maintenance.
Cable management systems extend the life of cables by providing consistent support and reduce material costs by encouraging installers to cut cables to the exact lengths needed.
In telecommunications, properly spaced cables help to reduce cross-talk and interference. In outdoor applications such as solar plants and security cabling for example, cable trays provide protection from vandalism, weather elements, and rodent damage. Properly supported cables maintain secure connections to server racks, solar panels, network ports, and other endpoints.
Cable trays maintain proper bend radii for directional and elevation changes, and allow cable runs to coexist with other building systems or navigate around obstacles in tight spaces. When executed correctly, cable management systems can lower overall project costs, enhance TCO, and maintain code compliance.
Combat the Costs of Rising Inflation with Snake Tray Products
The Snake Tray Value Proposition
So, if just about any commercial-grade cable management system provides these benefits, what unique advantages does Snake Tray bring to every project that no other manufacturer can?
Snake Tray has been innovating cable management and power distribution solutions since 1996. Our goal is to provide our customers with cost effective solutions that help reduce the total cost of construction. Here's how:
Snake Tray cable trays are made from recycled high strength steel or aluminum. Reusing raw materials keeps resources out of America's landfills, and Snake Tray products are further reclaimable and reusable at end of life.
Snake Tray products do not require field fabrication (hand bendable or prefabricated cable trays) for turns or transitions and are designed with built-in mounting systems for easy and flexible installation options. There are no tools to buy, and no sharp edges to damage cables or injure the installer.
Zero waste. Whether using a hand-bendable cable tray, a pre-configured wire basket, or a heavy duty steel or aluminum ladder, there's no cutting, no clipping, and no material waste.
Less labor, reduced costs, and faster deployment. Snake Tray products are hand bendable or prefabricated and connect in seconds using in-line connector bolts for an unbreakable mechanical and electrical bond. Pre-configured turns, Tees, and crosses shave hours off installation time. Built-in mounting rings allow trays to hang from a single point and eliminate the need for struts, trapezes, and other hardware accessories, further speeding installation and lowering costs.
Open architecture for drop in cable loading. Many trays feature a side loading or lobster trap design to prevent cables from jumping out the tray at turns or elevation changes.
Cost-effective shipping with minimal packaging. Snake Tray cable tray sections nest together for compact shipping and easier handling. Denser packing means fewer truckloads, and less packaging materials reduces waste, lowering overall energy and transportation costs.
Multiple sizes, material, and finishing choices. Cable trays are available in different widths, lengths, and loading capacities, many in a choice of galvanized zinc, stainless steel, or powder coated finishes. Snake Tray's unique mechanically-applied galvanizing process eliminates the growth of zinc whiskers, and our in-house powder coating facility is ready to apply any color finish to complete your project. A stainless steel finish is preferred for corrosion-resistant environments such as outdoors or in food processing applications.
Snake Tray is the leader in cabling utility-grade solar installations. We are the only manufacturer to offer above ground, open air cable conveyance for high ampacity DC power cables that eliminate the effect of de-rate for a better ROI.
Snake Tray products are proudly designed and manufactured in the USA and stocked in warehouses across the country for timely delivery of standard components to project sites. Our technical support staff and engineers can build customized solutions for any need with unmatched quality and turnaround.
Snake Tray products help builders maintain code compliance. Snake Tray products exceed the standards for National Electric Code (NEC) Article 392 , help comply with (NEC) code section 110.12 for cable tray loading capacities, are UL and cUL listed (Cable, conduit hardware) for weight carrying capacity, and are EIA/TIA, NEC, and NEMA compliant.
SNAKE TRAY CABLE MANAGEMENT SOLUTIONS
Hand Bendable Cable Trays for Under Floors, Overhead, and Walls
101 Series Snake Tray®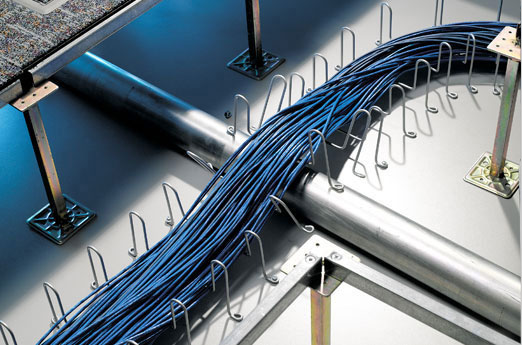 The 101 Series is designed for installation below raised floors, and as risers on vertical surfaces. The center spine allows the Snake Tray to be bent easily by hand over obstructions, around corners, and up walls. Mounting rings are integrated into the support legs, therefore no additional brackets are required. Available in a wide range of sizes and loading capacities.
201 Series Snake Tray®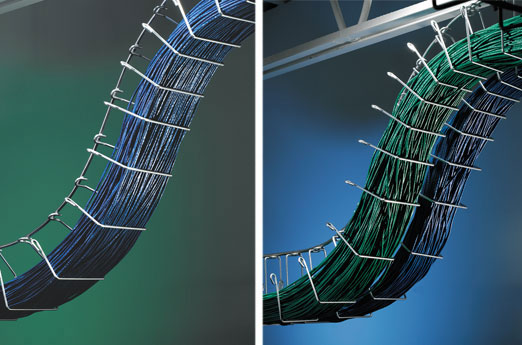 The hand bendable 201 Series is utilized both below raised floors and overhead, either mounted to a wall or suspended from the ceiling. Available in single and double pocket configurations (double pocket pictured) each pocket can accommodate up to 24 square inches of cable path. The double pocket version provides for natural separation of voice/data from power or fiber optic cables. Snake Eyes (mounting rings) are located along the center spine, allowing easy attachment of threaded rod for suspended applications.
401 Series Snake Race®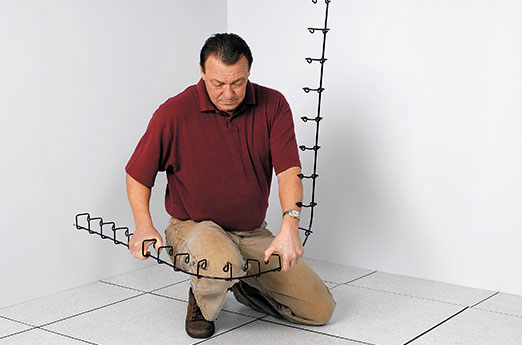 Manufactured from galvanized steel wire, the 401 Series is a light-duty cable manager holding up to 145 CAT6 cables. The Snake Race incorporates mounting rings along two planes allowing for both wall and suspended mounting configurations without any accessories or modifications. Its hand-bendable spine easily negotiates any changes in direction without tools or additional hardware.
454 Universal Snake Tray®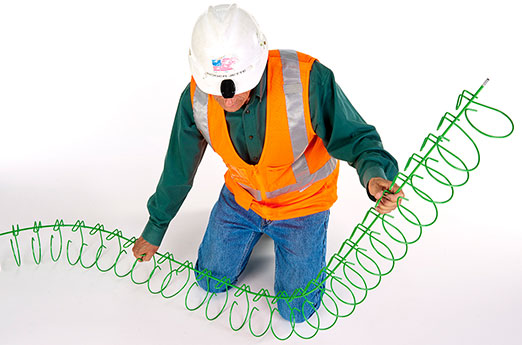 The 454 Universal Snake Tray protects and secures power over Ethernet (POE) and fiber optic cables. Trays with various loading diameters safely carry up to 260 lines while maintaining the proper bend radius for optimal cable performance. Its hand bendable design allows installers to easily work around any obstacle. Built-in mounting rings support flexible installation either facing the ceiling or a wall. Cables easily load from the side to save on installation time and won't jump out around turns or inclines thanks to its patented lobster trap design.
501 Series Wall Snake Tray®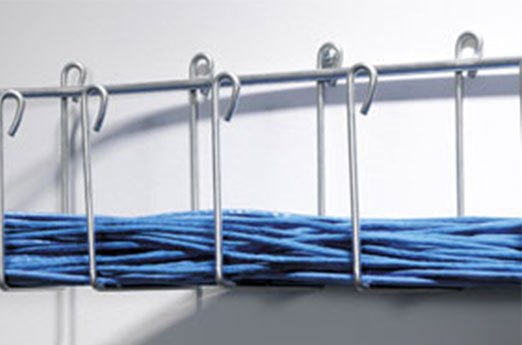 The 501 Series is the perfect solution for long linear installations where space is at a premium. The Wall Snake can be bent by hand in any direction along any plane to create a custom fit to match the contours of any vertical surface or structure. Segments connect in seconds using a single in-line connector bolt, while integrated mounting rings eliminate the need for struts, trapezes, and labor-intensive steps required by other cable trays to complete the installation.
Prefabricated Cable Trays
801 Series Mega Snake®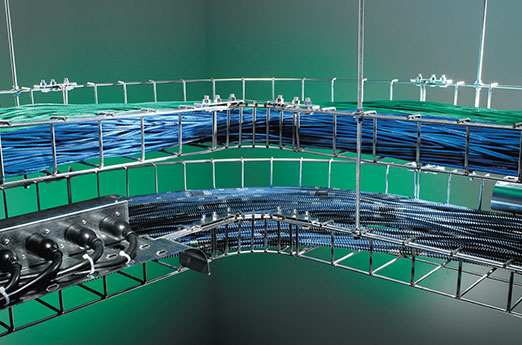 The 801 Series is a high capacity preconfigured cable tray system for data centers, hospitals, and industrial applications where large volumes of both data and power cables need to be managed. Constructed from quarter-inch galvanized steel wire, the largest diameter in the industry, Mega Snake is the strongest and most robust wire style tray available. Prefabricated turns eliminate labor intensive cutting and clipping to speed installation time. Mega Snake's unique design nests together creating dense stacks for reduced shipping and material handling.
Modular Cable Trays for Raised Access Floors
301 Series Snake Canyon®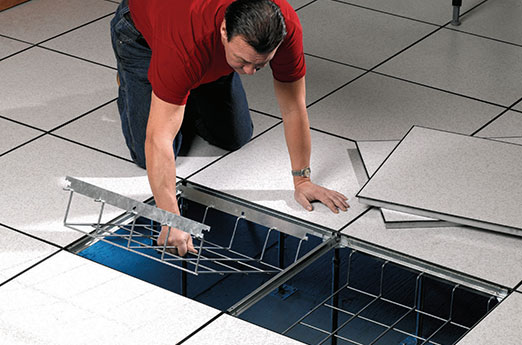 The 301 Series is designed for data centers, trading floors, and call centers with raised access floors. Snake Canyon is a revolutionary modular underfloor cable management system that integrates with any type of 2′ x 2′ floor grid. Simply lift the floor panels and drop in Snake Canyon basket segments to create a cable pathway safely separated from under floor HVAC and utility lines. There's no complicated hardware, air flow is maintained, cables are easily accessible yet out of sight, and the trays can be moved and reused as needed with minimal labor.
Snake Tray Aluminum Cable Tray and Cable Runway
653 Series Aluminum Cable Tray®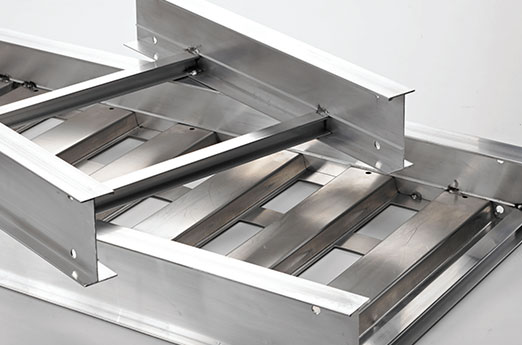 The 653 Series is a lightweight, high capacity cable tray system designed for rugged environments. Easy to install yet offering a high loading capacity, 653 Series ladder trays handle tremendous loads of high voltage cables without sagging. Excellent for indoor and outdoor industrial applications such as factories, chemical plants, utilities, data centers, and offshore oil drilling platforms, all 653 Series segments, intersections, and sweeps are pre-manufactured by Snake Tray from extruded aluminum.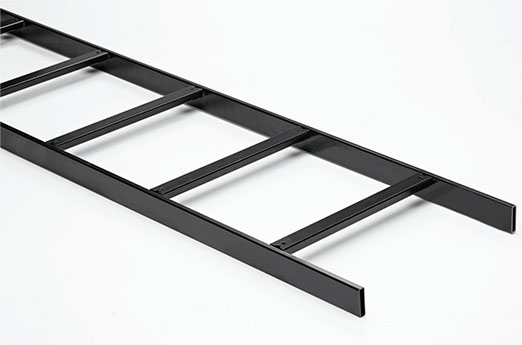 610 Series Snake Tray Cable Runway
The 610 Series is designed for the most highly cabled facilities running heavy duty high voltage cables such as hyperscale data centers, telecommunication rooms, and utility substations. Constructed from rectangular steel tubing for maximum strength and support, the Snake Tray Cable Runway has a maximum load capacity of 130 lbs./ft. when supported every five feet. Available in a wide range of widths with matching premanufactured turns and accessories.
Secure Cable Race Ways
652 Series Secure Cable Race Ways™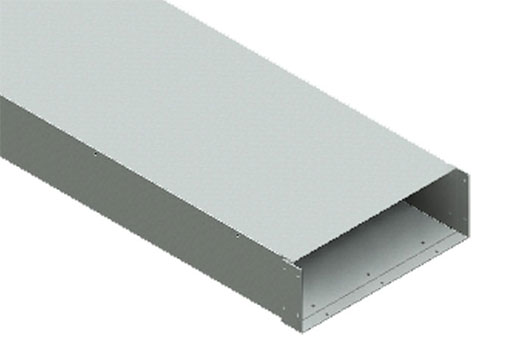 The 652 Series is designed to protect and house runs of fiber optic, control, and power cables. Snake Race Ways are used for cable and wire junction, distribution, and termination where complete containment is required. A hinged cover on one side allows for easy loading of cables along the entire run without pulling. A variety of lengths and fittings are available, and all directional fittings are designed to maintain a wide 12″ curved radius sweep, minimizing any non-compliant bend radius for all types of cables.
Cable Management for MC Cables
701 Series MC Snake Tray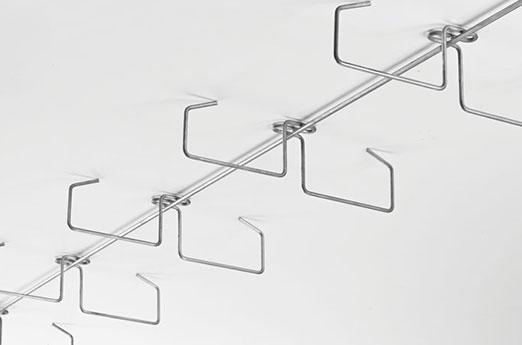 The 701 Series is a hand-bendable cable tray specifically designed to manage metal clad (MC) cables running overhead or attached to walls. Available in a single or dual pocket design, its patented built-in mounting rings allow for quick installation to concrete decks. Once installed, MC Snake Tray allows for fast loading of MC cables via a telescoping pole that allows the installer to drop in cables from the ground, not on a ladder.
Snake Tray Solar Solutions
Solar Snake Max®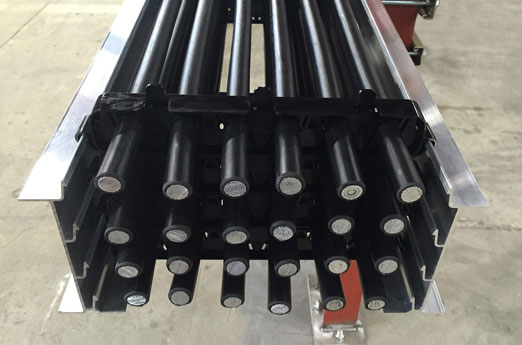 Solar Snake Max is the industry's only above ground cable conveyance system that manages high amperage cables in free air. It eliminates the need to de-rate cables which substantially saves on material costs and boosts energy harvest for a better ROI. Snap together components mount to any type of vertical piling or pole to allow for code-compliant cable separation of up to 36 high amperage DC power cables. Snake Max cuts the construction cycle times and costs of utility-grade solar plants by as much as 50%!
407 Series Solar Snake Tray®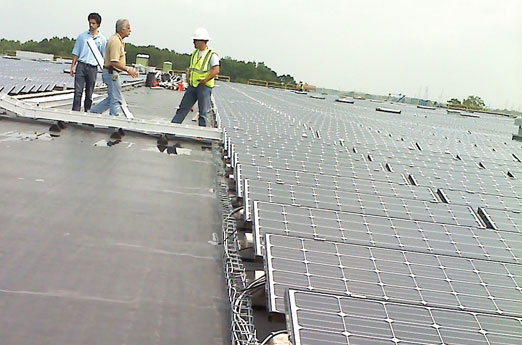 The 407 Series is the ultimate solution for rooftop solar arrays. It is the industry's only weatherproof, hand-bendable cable conveyance system that quickly and securely carries DC circuitry from solar panels to their terminations. Solar Snake's patented lobster trap design eliminates the need for cable ties and ensures effortless outdoor cable installation while organizing and protecting the cables from hurricane force winds over 120 mph. The 407 Series offers built-in mounting rings for easy mounting to any surface. It is excellent for fixed tilt arrays and can be adapted to run on messenger wire.
801 Series Solar Mega Snake®
This version of the 801 Series Mega Snake is optimized for outdoor solar installations. Designed to handle DC and AC feeder cables, Mega Snake comes in a stainless steel finish for climate-specific applications. Premanufactured turns, TEE's, crosses, and air separators maintain code-complaint separation between high ampacity cables.
Rail Snake Tray® – Cable Management Racking Systems™ (CMRS)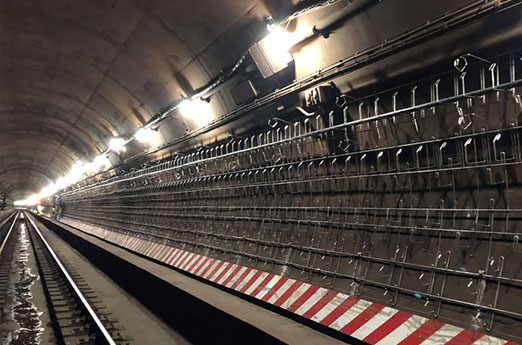 Snake Tray is a leading provider of cable management solutions for transit, tunnel and wayside environments. All Snake Tray products comply with NFPA 130 and NFPA 502 and are made in the USA. Our patented cable tray and racking systems are the solution for these applications. Our team works closely with the design engineers to develop and manufacture the most cost-effective solution for each installation. Snake Tray drastically reduces the installation time which keeps projects ahead of schedule and under budget.
Construction Firms Reduce Change Orders, Improve Profitability with Snake Tray
SNAKE TRAY: YOUR ONE-STOP SHOP FOR CABLE MANAGEMENT
Whatever the application or environment, Snake Tray has the solution. Snake Tray has revolutionized the cable conveyance market with cable management systems optimized for different applications, all designed to install quickly, reduce labor and material costs, and significantly drive down the total cost of construction. If you would like to learn more, contact us at snaketray.com. Our engineers and sales teams stand ready to help execute your next cabling project and develop customized solutions with maximum efficiency and profitability.
With Snake Tray, the only thing you will ever cut is construction costs.