It's a simple truth: Projects that are better designed in the beginning have better outcomes in the end. The reason is less changes on the job site. Fewer change orders mean lower costs through proper material estimating, less surprise charges, reduced overtime expenses, and fewer delays, allowing contractors to hit construction windows for timely project completion. The result is more profitable projects and happier clients.
Change orders are often the result of a Request For Information (RFI), when a stakeholder questions any facet of construction planning. The construction firm is obligated to respond with reports that explore how a vendor might solve a particular problem or educate stakeholders as to why a specific material or aspect of design was approved. If a better way to correct the concern or improve the design is identified through this process, a change order is issued. Some change orders send engineers back to the drawing board resulting in expensive reworks and project delays; others can be addressed with a few minor adjustments.
Minimize RFIs & Change Orders With Snake Tray
An August 2020 survey sponsored by the Associated General Contractors of America and Autodesk polled over 2,000 firms across a broad cross-section of the construction industry and found more than 70% of RFIs could be resolved through a more diligent design review process and/or vetting of documentation for errors and omissions, as most RFIs are the result of missing or misunderstood information.1
When it comes to the cable conveyance and power distribution aspects of a construction project, there aren't any better or easier solutions than those from Snake Tray. While we can't help you eliminate every RFI on a project, we can assure you the ease of use, flexibility, and economic realities of Snake Tray systems will not require any additional clarification or justification from stakeholders. Here's why: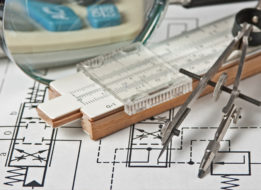 Improved profit margins through better design. Snake Tray is a one-stop source for innovative cable management and smart power distribution solutions for every aspect of commercial and residential building construction. Snake Tray product engineers partner with project architects from initial design and through final review phases to create precise blueprints and design schematics for accurate material and labor estimating.
Reduced shipping and transportation expenses. Snake Tray products are warehoused at distribution centers strategically located across the U.S. for economical and timely arrival at the job site. Cable tray sections are designed to nest together for cost-effective, high capacity shipping. Fewer trucks and less packaging materials reduce waste and weight, lowering fuel consumption.
Easily adaptable to meet any challenge on the job site without change orders. Don't stop work to change a cable or power distribution pathway, just work around the problem.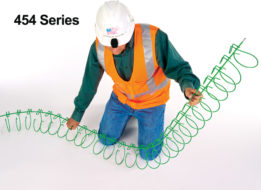 On site, Snake Tray hand-bendable systems such as the 101 Series, 201 Series, 501 Series, and the 454 Universal SnakeTray are strong yet flexible cable trays that are easily bent by installers in seconds to manage any directional change or navigate around any obstacle.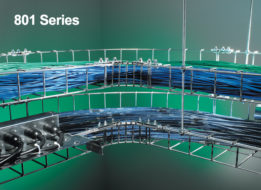 Snake Tray high capacity cable trays like the 801 Series Mega Snake and Aluminum Cable Trays are too strong to bend by hand, but save time and money by eliminating the need for field fabrication of turns and fittings. Snake Tray systems are pre-manufactured in various widths and lengths for fast and easy installation at the job site including pre-fabricated turns, Ts, and crosses without any special tools, excessive labor, or having to grind sharp edges. Safely connect sections in just minutes.
To address the need for power distribution beneath raised access floors in office buildings, call centers, and trading floors, nothing is easier to install, more energy efficient, or as versatile than the Snake Bus® Power Distribution System. It provides more than 18 kilowatts of
energy in one easy-to-install track and whip system, eliminating the need for traditional pipe and wire conduit. Its modular design allows installers to complete a customizable, reusable power distribution system for spaces up to 1,000,000 square feet quickly, working around any barrier without needing to stop progress to implement a change order.
To be fair, not all change orders resulting from RFIs are bad, and change orders should be an expected part of every project, but the goal is to minimize them before they become a drain on productivity and profitability. When planning the cable management and power distribution facets of your next project, let Snake Tray help in the beginning to ensure better outcomes in the end. Once on the job site, our solutions are infinitely changeable, reusable, and reclaimable to allow construction to proceed with fewer RFIs and change orders, increasing overall profitability. Contact Snake Tray today!
12021 Autodesk Construction Outlook: Risks & Opportunities
---
Snake Tray has revolutionized the industry with cable management, power distribution systems and enclosures all designed to install quickly, reduce labor and material costs, and significantly drive down the total cost of construction. If you would like to learn more, visit us at snaketray.com. Our engineers and sales teams stand ready to help execute your next cabling project with maximum efficiency and profitability.