The U.S. economy is picking up steam, eclipsing quarterly GDP growth forecasts as America gets back to work after a difficult 2020. The construction industry is seeing upticks in activity for new project starts, resuming construction at paused sites, and rescheduling projects that were put on hold during the pandemic.
The U.S is coming off some of the highest unemployment numbers in generations, yet many construction companies are having trouble filling skilled positions needed to operate at full capacity. An August 2020 survey sponsored by the Associated General Contractors of America and Autodesk polled over 2,000 firms across a broad cross-section of the construction industry and found 81% of respondents are finding it difficult to hire salaried project managers and supervisors, and almost 70% are having a tough time filling craft positions.1 Skilled laborers, electricians, carpenters, and sheet metal workers are among the most hard-to-fill jobs, at times causing construction delays and even project cancellations. Smaller labor pools inflate hourly wages. Good for workers; not so much for project budgets.
One way for construction companies to offset the rising costs of skilled labor—or the inability to find it in the first place—is to use products on the job site that require less supervision, and less time to install without the use of special tools or accessories.
When it comes to the cable conveyance and power management aspects of a construction project—any project, high-rise residential, office building, commercial structure, or non-building infrastructure—Snake Tray offers an entire portfolio of solutions designed to lower labor requirements. Here are three examples: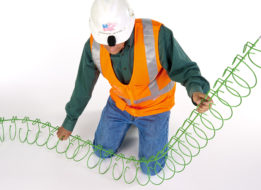 Hand bendable cable trays. Snake Tray products such as the 101 Series, 201 Series, 501 Series, and the 454 Universal Snake Tray (pictured) are strong yet can be bent by hand and are easily shaped by installers in seconds to manage any directional change or navigate around any obstacle. No cutting is required, that means no sharp edges to injure installers or damage cables. Perfect for copper data, fiber optic, and POE (power over ethernet) cables, all Snake Tray hand bendable cable trays are available in multiple sizes and finishes. All are designed with built-in mounting hardware plus single bolt connections that link sections together in just 15 seconds to create a mechanical and electrical bond in one step.
801 Series Mega Snake®. Mega Snake is a hybrid basket tray (strong as ladder, easy like generic wire basket cable trays) arrives pre-manufactured to complete installations faster and reduce costs by eliminating the on-site fabrication of turns, Ts, and cross-sections required by all other wire mesh cable trays. Imagine the labor savings possible when it takes an installer just five minutes to connect a pre-fabricated 90° turn versus the hour it can take to transform a straight section into a 90° sweep at a labor rate of $75/hour or more—for every turn! (In fact, wemade a video about it. [link] Check it out here). Excellent for high capacity runs of both low and high voltage cables, installers can connect tray sections together in under one minute using a splice kit that maintains a continuous electrical bond throughout the system. A built-in patented double rail suspension system eliminates the need for costly and time-consuming brackets or center strut supports and is convenient to attach additional accessories like patch panels and power modules.
Snake Bus® Power Distribution System. Snake Bus is a pre-manufactured power distribution system for underneath raised access floors. It provides more than 18 kilowatts of power in one easy-to-install track and whip system, eliminating the need for traditional pipe and wire conduit. Available in 4-foot and 8-foot segments, its modular design allows a single installer to complete a customizable, reusable power distribution system for spaces up to 1,000,000 square feet in hours. Taps offs (called Snake Whips) connect to floor boxes to power individualoffices, machines, and workstations along the track. Easily add, move, and change power configurations in a 10-second process to minimize labor for years to come. Copper busbar design decreases voltage drops which leads to greater energy efficiency.
With the price of skilled labor rising while still dealing with a shortage of quality workers, employing tools and products that minimize the need for skilled labor and speed installation are more critical to construction companies than ever. Snake Tray has the cable conveyance and power distribution solutions that get the job done with fewer hands in less time. Contact us to learn more about how Snake Tray can help you combat the labor shortage by doing more with less.
12021 Autodesk Construction Outlook: Risks & Opportunities
---
Snake Tray has revolutionized the data and power distribution market with cable management, power distribution systems and enclosures all designed to install quickly, reduce labor and material costs, and significantly drive down the total cost of construction. If you would like to learn more, visit us at snaketray.com. Our engineers and sales teams stand ready to help execute your next cabling project with maximum efficiency and profitability.