501 SERIES SNAKE® TRAY HAND BENDABLE CABLE TRAY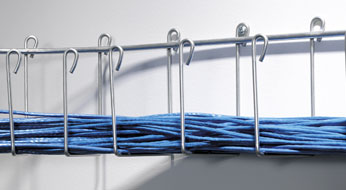 The 501 Series Wall Mount Cable Tray from Snake Tray® is the perfect solution for long linear installations where space is at a premium. This cable management system allows the tray to be directly attached to a wall without brackets using integrated mounting rings located along the center spine of the tray. These mounting rings eliminate the need for additional brackets or hanging hardware to complete the installation.
BENEFITS
Patented hand bendable design (no fabrication required)
Built-in mounting/hanging hardware
Single connection provides both mechanical and electrical bond
Hangs from a single point
Trays nest together for compact and cost effective shipping and material handling
Open architecture allows for easy loading of the cable
Have Questions?
Talk to a product specialist today:
1-800-308-6788