401 SERIES SNAKE RACE® HAND BENDABLE MINI CABLE TRAY
Seismic Bracing Kits with Crimp Tool & Cutter
| Part Number | Part Size | Description |
| --- | --- | --- |
| CM201/801-SBK1-XX | Kit for Anchoring Snake Tray and Mega Snake in Concrete Ceilings | |
| CM 201/801-SBK-J-XX | Kit for Anchoring Snake Tray and Mega Snake around Joists | |
| CM 201/801-SBK-L-XX | Kit for Anchoring Snake Tray and Mega Snake with Lag Bolts into Wood Beams | |
| CM 201/801-SB-CT | Crimp Tool | |
| CM 201/801-SB-CU | Cutter | |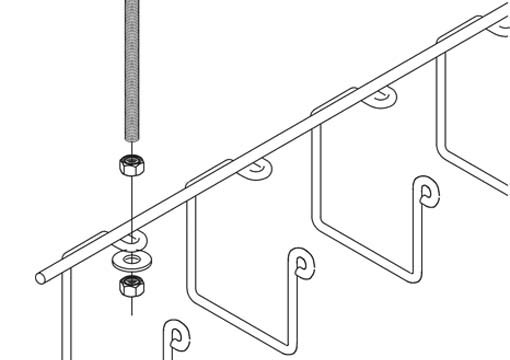 Threaded Rod
| Part Number | Part Size |
| --- | --- |
| TR-1 | 3/8" x 12" Threaded Rod |
| TR-2 | 3/8" x 24" Threaded Rod |
| TR-3 | 3/8" x 36" Threaded Rod |
| TR-4 | 3/8" x 48" Threaded Rod |
| TR-6 | 3/8" x 72" Threaded Rod |
| TR-8 | 3/8" x 96" Threaded Rod |
Pre-cut and pre-chased threaded rod for overhead tray installations. All rods are 3/8"-16 10/24 high strength steel as per ASTM A36 and available in 1', 2', 3', 4' 6', and 8' lengths. Rods are inserted through the patented Snake Eyes and secured with two 3/8" hex nuts and one flat washer. No additional mounting accessories are necessary.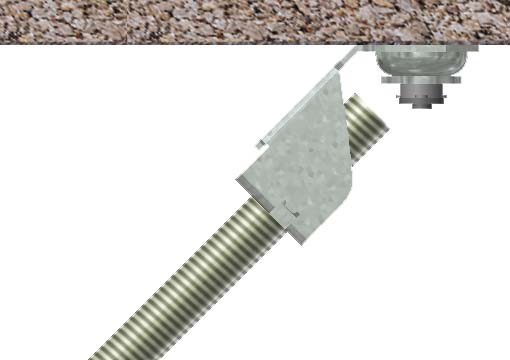 Hanger Bracket for Threaded Rod Suspension
Part Number
CM TR-HBS for Steel
CM TR-HBC for Concrete
Hanger bracket for powder-actuated fastening. Design allows for easy installation using any 8 mm power actuated fastening system. Available for both steel and concrete. The New, Versatile Hanger that Simplifies Threaded Rod Suspension.
Attachment Hardware
| Part Number | Part Size |
| --- | --- |
| CM FW-38 | Zinc Plated 3/8" Washer |
| CM HN-38 | Zinc Plated 3/8" Hex Nut |
| CM RC-38 | Zinc Plated 3/8" Rod Coupling |