Quite frankly, we're surprised (and thankful) that no one else thought of it first. Prefabricated cable management systems deliver unmatched value versus generic wire basket trays by speeding installation, improving consistency, and maximizing savings through reducing labor at the job site. Snake Tray invented the concept of prefabricated cable management systems 25 years ago and has been innovating ever since.
Labor is the biggest variable expense in any construction project. You never know what kind of obstacles, mistakes, or delays will add man-hours to the job. When it comes to the cable conveyance and power distribution aspects of a construction project, Snake Tray removes these unknowns from the equation and brings predictability to the job site.
Manufacturing turns, crosses, and other fittings in a controlled environment for mass production improves consistency. Every piece is made to the same exacting standards for easy installation and connection to the next segment. Further, labor costs are lower using factory production. Snake Tray fabricators are focused on building quantities of repeatable sections, accelerating throughput rates at an hourly wage far less than what a typical licensed electrician commands.
When you think about it, there's roughly the same amount of time, labor, and materials involved in making a 90° turn at the factory or at the job site. And indeed, you will pay more for a prefabricated turn than a straight wire basket tray to be made into a turn. But would you rather pay highly skilled (and highly paid) installers the extra hours to build turns and crosses as needed in the field, or have them spend five minutes connecting prefabricated sections with Lego®-like ease? In short, prefabrication materials more than offset the cost of on-site labor.
Besides saving hundreds of man-hours, prefabrication eliminates quality variances. Every section, straight or turn, is manufactured and installed with the exact same precision for a uniform look, rather than with slight inconsistencies that come from different installers building turns and fittings to their own preferences as they progress through the job. Plus, there's no waste created by cutting support wires when making turns.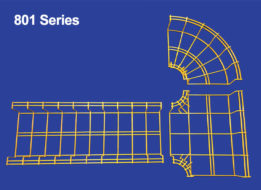 In fact, when a cable conveyance project is designed and laid out in partnership with Snake Tray engineers, every component, every turn, and every elevation change arrives at the job site as specified on the blueprint ready for installation. Set up time is greatly reduced and on-site fabrication is eliminated for a low total cost of ownership. Prefabrication also delivers tremendous economies of scale when constructing buildings such as hospitals, hotels, schools, and college dormitories with dozens of identically designed, repeatable spaces.
Prefabricated Snake Tray products like the overhead 801 Series Mega Snake, and the universal 301 Series Snake Canyon for under computer access floors go even further to reduce labor costs by minimizing the number of installers required for a job. Send two or three employees to hang a long Mega Snake run instead of a larger team; use one installer to create a separate under floor pathway using Snake Canyon and reduce labor costs by up to 90% compared to traditional wire basket trays.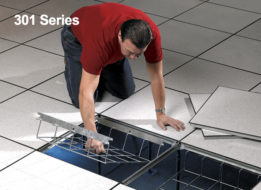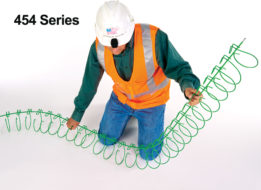 The same principles apply to Snake Tray hand-bendable cable trays like the 101 Series and 454 Series Snake Tray. These trays also feature built-in mounting hardware and can be easily shaped to navigate around obstacles, follow the contours of any space, elevation, or direction change without any cutting or field fabrication. Just bend it to the desired shape in seconds. Maximize the profitability of your next job with Snake Tray prefabricated cable management solutions and drive down the cost of construction. It's easier than you think.
---
Snake Tray has revolutionized the data and power distribution market with cable management, power distribution systems and enclosures all designed to install quickly, reduce labor and material costs, and significantly drive down the total cost of construction. If you would like to learn more, visit us at snaketray.com. Our engineers and sales teams stand ready to help execute your next cabling project with maximum efficiency and profitability.