Dig a trench end-to-end to bury cables, or dig holes to plant above ground pilings?
Guess where a buried cable failure point may be, or easily access cables for repair and replacement?
Use thicker conductors to compensate for underground de-rate, or carry all the PV energy the array can produce on 50% less cable size?
These are three questions every engineer should ask when considering Solar Cable Management for their next utility-grade solar plant.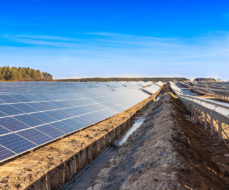 The traditional method of burying cable is simple, safe, and effective, but is also labor intensive, sloppy, and expensive. Laying cable directly in the ground involves trenching and overcoming issues and delays caused by weather, mud, rocks, tree roots and other geological obstacles. Cable repair is expensive and hindered by lack of visibility to an exact failure point. De-rate, the percentage reduction in cable wattage capacity required to offset heat buildup, is considerable as earth traps heat. In fact the de-rate factor can be up to 50% when running multiple buried cables in parallel. Utilities will often use larger, thicker cables to compensate for any de-rate to safely carry the current, but this only inflates cost without increasing capacity. However, trenched cables do create a natural physical barrier between electrical charges and maintenance personnel, critical for employee safety when working on a solar array with hundreds of thousands of panels.
Today there is an equally safe method for commercial grade solar cable conveyance that does not require trenching, speeds installation, and realizes significant cost savings.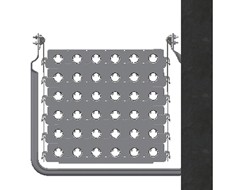 Snake Tray's patented Solar Snake Max™ system is an above ground (aka "free air") cable management apparatus that uses brackets mounted to vertical pilings. Specialized suspended insulated separators meet NEC requirements for individual cable spacing for the entire length of a run. This allows the heat of electrical friction to dissipate into the surrounding air, maintaining the maximum possible energy throughput. The improved quality of today's cable jacket technology using solar inhibitors now allows high amperage cables to be exposed to sunlight and outdoor elements for decades without suffering degradation. This eliminates the need for covers, making free air installation an even more attractive alternative to trenching.
Snake Tray Solar Snake Max II can universally carry anything from a 350 Kcmil to a 750 Kcmil in any mixed combination.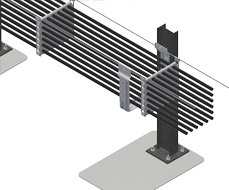 As a result, free air installation greatly reduces or completely eliminates de-rate, which can reduce cable impedance by 25% to 40% over an entire project.
Imagine the savings every solar plant can achieve by using 350 Kcmil cables in free air space to convey the same power of 600 Kcmil buried cables and no digging! This is the value of the Snake Tray Solar Snake Max system, and why you should consider free air above ground cable installation for your next solar array project.
Free air installation requires less labor for lower costs than trenching. The Solar Snake Max system safely holds cables in place with the proper amount of support and elasticity so that cables are never overstressed and cannot touch the ground.
Post-installation, maintenance and repairs are simpler and cost less, as everything is above ground for easy visual inspection and fast access. Finally, all Snake Tray products are made right here in the USA. Maximize the cost savings of free air cable installation with the Snake Tray Solar Snake Max system.
---
Snake Tray has revolutionized the data and power distribution market with cable management, power distribution systems and enclosures all designed to install quickly, reduce labor and material costs, and significantly drive down the total cost of construction. If you would like to learn more, visit us at Snake Tray. Our engineers and sales teams stand ready to help you design your next utility-scale solar plant cabling project for maximum performance, safety, and ROI.