In Part 1 of this blog we discussed how Snake Tray's hand-bendable wire basket cable trays support COVID-19 restrictions on the job site by allowing electrical contractors to finish jobs faster with a minimal workforce. It's easy to see the value of Snake Tray products when overhead turns and transitions are completed in 15 seconds by a single installer rather than 15 minutes by a team. But what about installing power distribution systems and network cables underneath raised-access floors in modern office buildings? Well, it turns out Snake Tray has a couple more solutions that can improve profitability and speed installation while maintaining proper social distancing practices down there, too.
The old method of wiring a building by laying and securing conduit, pulling copper through the pipes, creating stub-ups, and installing junction boxes and outlets on every floor is a time-consuming job requiring a team of electricians. Facing additional pressures due to new waterfall construction practices and manpower limitations on the job site, electrical contractors are seeking new ways to get jobs completed on schedule using fewer workers.
Snake Tray's Snake Bus is a next-generation modular power distribution system for single- and multi-story buildings with raised access floors. This prefabricated wiring system is the fastest, easiest and most cost effective ways for electrical contractors to pre-wire a large commercial space for power.
The Snake Bus system uses bus bar technology instead of copper wire and conduit to run power wherever it is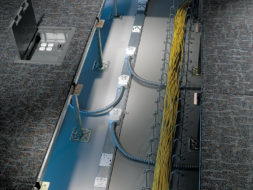 needed below a raised floor in one easy-to-install track. Snake Bus tracks are manufactured in segments that easily mount to the base floor and join together with Lego™-like ease to create an IP-addressable power distribution system for spaces up to 1,000,000 square feet. Tap offs (called Snake Whips) plug into the track in shuttered receptacles placed every 12″ and carry power to destination points such as floor boxes, furniture interface modules, wall outlets, and air handler components. Moves, changes, and additions are accomplished with ease and speed–simply unplug and re-establish a work cell at its new location. Snake Bus is available in 3-phase or dual circuit configurations to provide between 12,000 to 18,000 watts of power from one track. Snake Bus has the ability to energize or de-energize portions from one-half to two-thirds of its capacity for energy conservation as specified by ASHRAE Standard 90.1 and California Title 24. These circuits are controlled by the Snake Connect, which directly interfaces with the building management system (BMS). (If you would like more information on how Snake Bus supports compliance standards for energy conservation, click here to download our white paper, California Title 24 Compliance: Building A Smarter Building Is Easy With Snake Tray [link]). But perhaps the biggest advantage of Snake Bus in light of COVID-19 worker density restrictions on the job site is that a small team or even a single installer can quickly wire an entire building for power to keep jobs profitable and overall construction on schedule.
When it comes to running hundreds of low voltage data cables beneath a raised floor, Snake Tray has that covered as well. The innovative Snake Canyon is the preeminent cable tray management solution for use underneath raised access floors. This patented modular system is compatible with any brand or type of access floor including stringerless floors. Snake Canyon fits under any 2′ x 2′ floor grid and even offers integrated power distribution accessories to meet data center electrical and data cabling needs in one solution. Simply lift the floor panels and drop in Snake Canyon basket segments to create a new cable pathway safely separated from under floor HVAC and high voltage lines. There's no complicated hardware, and cables are kept organized and out of sight, yet accessible. The trays are designed for easy cabling loading, can be moved and reused as needed, and there's never any cutting or field fabrication. As with the Snake Bus system, entire pathways can be installed quickly by a small team or just one installer to satisfy social distancing practices. The trays nest together for easy handling; it only takes about 30 seconds to install each Snake Canyon segment. Further, small lateral pathways can be created by the original Snake Tray 101 Series, which leaves the main trunks of Snake Canyon to handle discrete destinations under the floor. The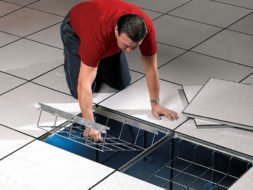 value of Snake Tray is there even when you can't see it.
The bottom line is that Snake Tray products let electrical contractors get in and out quickly (and profitably), so the next phase of construction can begin on time and on budget. These days, contractors of all vocations are trying to figure out how to best conduct business in the new normal. Snake Tray cable management and power distribution systems can significantly cut manpower requirements, improve profitability, and help electrical contractors comply with social distancing measures as well as meet tighter scheduling windows on the job site.
---
Snake Tray has revolutionized the data and power distribution market with cable management, power distribution systems and enclosures all designed to install quickly, reduce labor and material costs, and significantly drive down the total cost of construction. If you would like to learn more, visit us at snaketray.com. Our engineers and sales teams stand ready to help execute your next cabling project with maximum efficiency and profitability.