Have you ever compared the time it takes to fabricate a ninety-degree turn using generic wire basket cable trays versus the Snake Tray® Mega Snake®? We have, and we made a video about it.
If you have four minutes, this side-by-side video clearly shows how fast and easy it is to connect two pre-fabricated Mega Snake sections while creating a continuous electrical bond in one step, in real time, compared to the 65-minute long, labor-intensive process of cutting, grinding, bending and re-connecting metal to transform a straight section of wire basket tray into a ninety-degree sweep.
Considering that electricians command rates between $75 and $110 per hour (depending upon geography), shaving a full hour of labor cost off every turn that has to be fabricated on a job site should be enough to grab your attention. In addition to the electrician's time saved on the jobsite, the project will also start off with advantages at the engineering level. Designers can drop the digital models of the Snake Tray components into their drawings knowing that the contractor will be able to construct in a Lego-like fashion all the components going exactly where intended even if it's a giant array facilitating the cable requirements of the world's largest data centers.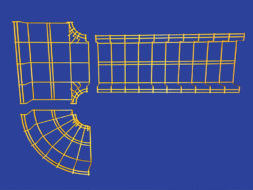 But Mega Snake goes even further to speed installation with a built-in suspension system that eliminates the need for costly brackets or under struts. Sections are connected in less than a minute, with pre-manufactured turns, Ts and reducers to easily navigate changes in direction, elevation, capacity, or route cables around obstacles. Mega Snake cuts overall installation time by up to 90%. It requires no special tools or electrical jumpers between sections, and creates zero waste.
Watch as the installer of the generic 4″ x 24″ x 8′ wire mesh cable tray has to make in excess of 300 cuts and grind each point smooth as per NEC requirements in order to remove enough metal from the tray to bend and fasten it into the desired sweep angle–while the Mega Snake installer long ago moved on to the next section.
Now that all these advantages have been achieved keep in mind the individual charged with the design of the project will be able to have all of their objectives met with no contractor induced deviations from the overall plan, at the same time reducing hours spent in the design phase.
This video will prove that when time is money, Snake Tray Mega Snake puts cash back in the electrical contractors' pocket. Click here to visit the Snake Tray website and view Generic Wire Basket Cable Tray Versus Mega Snake. We're sure you'll find it time well spent.
---
Snake Tray has revolutionized the data and power distribution market with cable management, power distribution systems and enclosures all designed to install quickly, reduce labor and material costs, and significantly drive down the total cost of construction. If you would like to learn more, visit us at snaketray.com. Our engineers and sales teams stand ready to help execute your next cabling project with maximum efficiency and profitability.