The Dormitory Authority of the State of New York (DASNY) is the entity that oversees dormitory construction and financing for all State University of New York campuses. When DASNY decided that several residence halls on the SUNY Oswego campus needed to be renovated for modern network connectivity and power, they knew just who to call.
Global engineering and architecture giant CallisonRTKL teamed with Snake Tray to help design and provide an enclosed cable conveyance system, and Concord Electric to install it. Together they would tackle the task of bringing wired and wireless networking (as well as additional AC power lines for all those laptops and printers) to hundreds of dorm rooms across campus.
A total of six buildings constructed of cinder block, some eight and ten stories tall, were scheduled for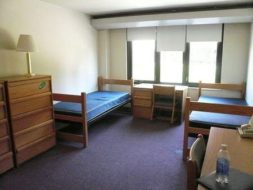 renovation. Built in the 1960s, these residence halls were designed with absolutely no IT in mind beyond a couple of AC outlets and an RJ-11 telephone jack per room. This presented an interesting challenge for the CRKTL/Snake Tray/Concord team: How to wire every room in every building for modern networking with minimal intrusion on the living space, in a very short installation period, and in a manner that would protect the cables and access points from the hazards of college dorm life for years to come?
Multiple options were evaluated for establishing end-to-end cable pathways running the length of each floor including interior hallways, utilizing closet space, even running cables along the exterior façade of each building. (These buildings were constructed without accessible interstitial spaces between floors or drop ceilings).
After several pre-planning and on-site visits, it was determined the best alternative that would meet national building and electric codes would be to run the cables inside each room along the exterior wall above the windows (pictured). This would keep the pathway safely up and out of reach while minimizing impact on usable space.
Holes were drilled through each side wall and plugged with a firestop after hanging the tray and running the cables through each room. A pre-constructed sheet metal valance, finished to match room color, was then attached to the tray to shield the cables and wireless access points within. Drop-offs for additional AC power outlets, fashioned to look like wall trim to blend with the architecture, ran down risers from the corners of each room.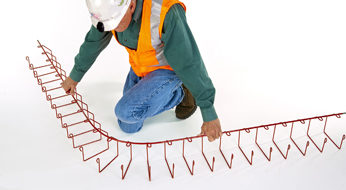 To address the issue of a limited installation window, Snake Tray had all the nested cable tray and valance components premeasured, precut and delivered to the job site during the final weeks of classes. As soon as the students moved out at the end of the semester, Concord Electric was able to immediately begin renovations. Although most of the rooms had identical dimensions, there were variances to contend with such as transitioning corners and working around obstacles. Snake Tray designed the cable tray and valance to be easily bent or cut to size for faster installation by Concord electricians. All six buildings were completed over the course of two summer breaks, minimizing impact on student life. When students returned to school in the fall, they came back to refreshed dorm rooms totally wired for learning in the 21st century.
---
Do you need to renovate an existing building for modern data communications and power distribution? Snake Tray has the experience to help you design and implement innovative cable management solutions to bring today's technology to yesterday's architecture.