The coronavirus pandemic threatens to overwhelm the US healthcare system, especially in the epicenter of New York. In an effort to prepare for the peak of the outbreak, state officials commissioned the US Army Corps of Engineers (ACoE) to build a series of temporary field hospitals to absorb the expected overflow of COVID-19 patients. One of these sites is located on the State University of New York (SUNY) at Old Westbury campus.
The ACoE designed a series of four tents that would be erected on the campus athletic fields. Each tent measures approximately 700′ x 100′ and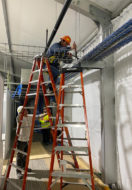 houses in excess of 200 beds. A fifth site, the University's gymnasium, was also to be converted into a temporary hospital. This all needed to be done quickly while maintaining the highest levels of safety standards for the construction crews. The end result needed to be a secure and sterile healthcare environment properly equipped to allow first responders to do their jobs and patients to heal.
To make it happen, the ACoE engaged A&E Construction as the general contractor, who in turn hired subcontractors to rent, erect and wire the huge tents for power, lighting, data and oxygen lines that would run to each bed. (For context on the size of the job, each tent is equipped with eight 50-ton HVAC units for climate control.) When Commander Electric, one of Long Island's preeminent electrical contractors was brought in to handle lighting and cabling, they saw they had to hang a cable conveyance system on a tent wall and realized they had no way to deploy it. Commander called in Snake Tray, a familiar local partner, to design a unique solution.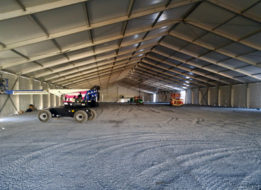 A quick site inspection revealed that a horizontal bracket attached to the tents' vertical truss support beams could act as an elevated shelf for the cable run. Minutes away, Snake Tray engineers returned to their facility with the proper measurements to design and fabricate a steel bracket that could easily bolt onto the beams to support the cable tray. They returned 24 hours later with the necessary quantity of customized pieces needed for Commander installers to complete the job.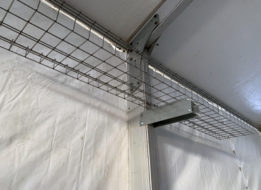 Three thousand linear feet of Mega Snake cable tray were delivered and installed over the course of four days. The cable conveyance system ran end-to-end along one side of each tent. Cables were then run across the structure using smaller secondary conveyance trays and the lattice work of the top of the temporary interior cubicle walls to wire each bed in the tents.
As a local company, Snake Tray is honored and proud to help build the facilities that will allow our fellow New Yorkers to survive this crisis. In fact several Snake Tray executives donated their time and effort to help install the cable conveyance system. However, unlike any other project Snake Tray has ever collaborated on with Commander Electric and the ACoE, we truly hope it is never used.
---
Snake Tray is a US manufacturer of cable management and power distribution systems based on Long Island, New York. We have the resources and manufacturing agility to meet the needs of your next cabling project, no matter how urgent.