There's light at the end of the COVID-19 tunnel; employees are slowly returning to the office after a year or more of working remotely. While the pandemic has permanently altered the workplace, that doesn't mean it cannot be reinvented to be even better than before.
Moving forward, businesses recognize they cannot allow workplace conditions to facilitate the transmission of a virus that could cause an entire facility to shut down. The problem is that most modern office buildings were not designed with a pandemic in mind. The focus has always been on minimizing cost per square foot. That meant packing employees into rows of cubicles with scant attention paid to things like airflow or the health and safety of desk-bound workers. That's going to have to change.
Some employees will be leery about returning to the office and will only come back if they feel safe. Towards that end, many offices have taken steps to ensure proper physical distancing between coworkers such as changing desk layouts from face-to-face to back-to-back, adding plexiglass barriers between workstations, or implementing shifts to reduce office density. Other actions include removing some chairs from the conference room, repositioning the shared office copier to an open space, installing touchless door locks and light switches, and placing sanitizer stations throughout the office.
All are great ideas, but as businesses continue to struggle with ways to reconfigure office space, many are realizing these steps aren't enough; they must radically change office layouts to properly space people out. That means moving desks and cubicles, which can be difficult in buildings with electrical and network jacks hard-wired into walls. It is time consuming and expensive to remodel an office with additional AC power, communication, and network drops, and then even those become fixed assets when complete.
Rather, a solution is needed that supports fast, easy, and economical reconfigurations of office assets and workstations as needed. Because employees will most likely be returning to the office in phases, it is entirely possible an office will be reconfigured several times before staffing returns to pre-pandemic levels. That makes a reusable, changeable system even more valuable.
Snake Tray's prefabricated Snake Bus power distribution system is one of the fastest, easiest and most cost effective ways to wire a commercial space for flexible power distribution system underneath raised access floors. The only one of its kind,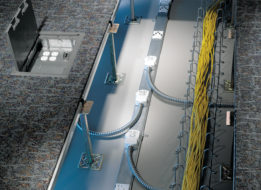 the Snake Bus system uses proprietary bus bar technology instead of copper wire and conduits to run power wherever it is needed in one easy-to-install track. More energy efficient than traditional wiring, Snake Bus uses less copper and experiences reduced voltage drop over longer runs. Snake Bus tracks are available in 4-foot and 8-foot segments that snap together in seconds to create an IP-addressable power distribution system for spaces up to 1,000,000 square feet. Tap offs (called Snake Whips) deliver power to individual offices and workstations by connecting to receptacles positioned every 12 inches along the bus track for ultimate flexibility. Because it is pre-manufactured and can be endlessly reused and reconfigured, Snake Bus provides a 30% reduction in material and labor costs over alternative and traditional hard-wiring methods.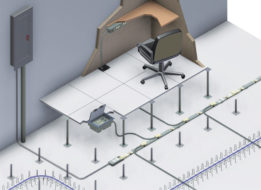 So, need to move a row of desks for returning employees? Turning the break room into the copy room? Simply exchange solid raised floor panels for ones outfitted with a recessed power box at the desired positions. Data network cables can be run alongside the Snake Bus using hand-bendable Snake Tray cable trays in the same under-floor space. No more tripping over extension cords and network lines duct taped to the floor.
The ideal solution for enterprise headquarters, call centers, trading floors, medical buildings and any other building utilizing raised access flooring, Snake Bus is available in two- configurations. The three-phase 707 Series Snake Bus provides up to 18,000 watts of power (6,000 watts per circuit) in one track. The dual circuit 717 Series Snake Bus provides two circuits for up to 12,000 watts of power. In addition to being flexible and reusable for near-instant office reconfiguration, one of the phases can be designated as a variable power circuit in the 717 Series, and up to two in the 707 Series. Snake Bus connects to smart building management systems (BMS) for California Title 24 and ASHRAE Standard 90.1 compliance. BMS use timers and/or occupancy sensors to determine when an area is active and needs power, and de-energizes non-essential equipment plugged into the variable circuit(s) like fans, phone chargers, and radios when workstations are empty.
As businesses and employees adjust to the new normal, it will be more important than ever to build in the flexibility needed to allow for fast office reconfiguration. Snake Tray power distribution systems and cable management solutions, when implemented in conjunction with raised access floors, can greatly contribute to office layout flexibility while creating a healthier environment for all employees. Visit us at snaketray.com and let us help you safely bring back your employees to the office.
---
Snake Tray has revolutionized the data and power distribution market with cable management, power distribution systems and enclosures all designed to install quickly, reduce labor and material costs, and significantly drive down the total cost of construction. If you would like to learn more, visit us at snaketray.com. Our engineers and sales teams stand ready to help execute your next cabling project with maximum efficiency and profitability.