As the Baby Boomer Generation ages beyond retirement years, the construction of new elderly care facilities and the renovation of older ones has become one of the fastest growing segments of the U.S. economy. Learn how Snake Tray helps improve quality of life at assisted living facilities with their hand-bendable cable trays and customizable enclosures, bringing technology to every room.
There are independent senior living communities, assisted living facilities, and memory care centers being built or undergoing modernization everywhere.
The biggest difference between today's elder care facilities and those built to care for the Greatest Generation – Americans who lived through the Great Depression and World War II – is technology. 
Advancements in healthcare and networking mean we no longer have to shutter the elderly and disabled away in cinderblock dorm-like buildings with nothing but an analog telephone line and a cable TV jack.
Tech-savvy baby boomers moving into independent or assisted living facilities want to bring all the creature comforts of home along with them.
Just because they no longer cook or clean for themselves doesn't mean they no longer watch their favorite Netflix or Amazon Prime shows, listen to music, participate in social media, or shop online.
Those who aren't mobile still ask Alexa to turn on the lights. They want to keep their wireless phones and iPads to video chat with the grandkids.
In fact, socialization has proven vital to keeping elderly residents engaged and maintaining their quality of life. Facilities need to provide these digital services to attract new residents.
Technology Needs Vary for Residents and Caregivers
Technology is not solely for the entertainment of residents; it is also critical to the operations of the modern elder care facility. As the level of care progresses, so does the complexity of support.
Some residents may only require bidirectional communication between their room and the nursing station, others may need cameras for constant remote patient monitoring, internet connectivity for tele-health doctor visits, or have smart medical equipment or furniture installed in their room to capture biometrics or make oxygen.
Every resident is different and must be monitored individually. In fact, assisted living facilities represent one of the few dual-use environments where technology is used to support both residential and business applications under one roof.
So, how do assisted living facilities install modernized networking and communication equipment and deliver a different mix of services to every room and every resident?
Increasingly, the answer is a combination of Snake Tray's hand-bendable cable trays and zone cabling enclosures.

Snake Tray Brings Digital Services to Every Room, Every Resident
A wide range of hand bendable cable trays allow for easy creation of cable pathways for all services down a hallway or corridor – especially for older facilities undergoing renovations that were not designed with dedicated cable pathways.
Those cables are then terminated at recessed wall (top) or ceiling mounted (bottom) enclosures in each room that are equipped with the desired mix of network ports, routers, power supplies, cooling fans, emergency communications, and wireless access points to bring concealed connectivity to every resident.
Snake Tray's zone cabling distribution enclosures bring modular flexibility to the active and passive point-of-use components needed for each room.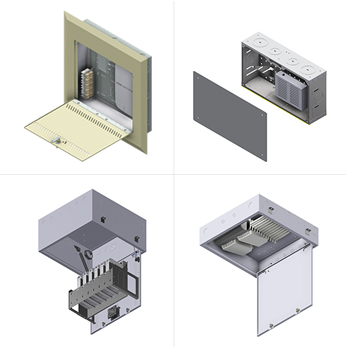 Available in a wide range of shapes and sizes to meet different mounting needs, Snake Tray power and data distribution enclosures are equipped with versatile bracket configurations, multiple knock outs for conduit egress, vented panels, and lockable secure covers, effectively serving as mini telecom/network closets customizable to every room.
Enclosures are constructed galvanized steel, and many are available with Palusol® fire-protection panels to meet UL standards for fireproof construction in institutional settings.
Most can be designed with decorative covers and/or powder coated finishes to match the décor of any space, and all are manufactured here in the USA.
Snake Tray has the engineering know-how to design and build any type of enclosure for data and power distribution. If we don't have the exact type of enclosure you need in stock, we'll make it.
Bringing technology to every room in an elder care facility is no longer a choice. Snake Tray hand bendable cable trays and customizable enclosures can help your assisted living facility attract new residents who demand access to digital services and support the growing sophistication of network infrastructure of the facility. Contact us to discuss your next enclosure project.