The concept for the generic wire basket tray originated in Europe about 50 years ago. Its rise in popularity paralleled the growth of computer networks and the need to convey relatively small loads of low voltage data cables across building interiors.

It was a new, low cost alternative to the heavy duty steel or aluminum ladders used to run thick high voltage power lines. You'll find them everywhere; overhead inside general office buildings, factories, fast food restaurants, warehouses, data centers, telecommunication substations, and hospitals to name a few, and along subway tunnel walls. There was some labor involved in fashioning turns and elevation changes; installers would cut pieces out of straight sections, then bend and splice them together into the desired directional change. This took a little time, but it gave contractors the flexibility to route cables through spaces never intended for such a purpose. In fact, architects rarely planned for data cable conveyance back then; it was usually left to installers to figure out a path on site. Wire mesh cable trays fit the bill, and they were quickly adopted by American electrical contractors who faced the same data cabling challenges. Today there are about 20 companies offering generic wire mesh cable trays in the U.S., and they've all remained pretty much unchanged since their import, that is until the introduction of Snake Tray's 801 Series Mega Snake®.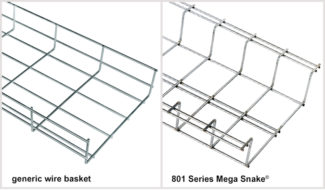 Generic wire basket trays are typically made from 0.120″ to 0.187″ (3 to 4.75 mm) steel wire welded into a single wire grid. Most have a maximum weight rating of about 75 pounds per linear foot when supported every five feet. This is sufficient for light cable loads in smaller installations, but is inadequate when the job calls for cable capacity and weight equal to what a steel or aluminum ladder could support. Brackets and struts are usually required for installation. And all still require some field fabrication in order to create any type of directional change.
Strong as Steel Ladder with the Flexibility of a Wire Basket Tray
Snake Tray designed its version of the wire basket tray to be double the strength of generic wire basket trays. Manufactured with 0.250″ (6.35 mm) steel rods, the 801 Series Mega Snake is ideal for placement into true industrial environments requiring both low and high voltage cable conveyance. Available in a number of widths and depths, it is strong enough to meet or exceed the cable capacity and weight loads carried by steel and aluminum cable ladders—up to 150 lbs per linear foot when supported every five feet—at a fraction of a ladder's weight and cost, and with unmatched flexibility to speed installation and reduce labor costs. Here's how: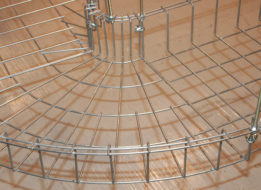 NO cutting required to make turns. The 801 Series Mega Snake is NOT hand-bendable; it's way too strong for that. But our
pre-manufactured turns, Ts, and cross sections eliminate laborious cutting and sharp edges to complete installations faster. That saves time, and time is money. Prefabricated tray components maintain proper spacing and consistent bend radii for maximum cable safety and performance. Connect sections to fittings in less than five minutes—no field fabrication or grinding required. The splice kit not only connects sections together it also maintains a continuous electrical bond throughout the system.
Built-in suspension system. Eliminate the time and cost needed to install expensive brackets, trapezes, and center support struts. The patented dual-rod Snake Rail accepts threaded rods at any position for fast and easy installation without additional hardware. Need more capacity or to separate high from low voltage cables? Simply hang another tray layer using the same threaded rods and our patented Snake Nuts®.
Unique Accessory Rail. The Snake Rail makes the 801 Series Mega Snake the only cable tray system capable of hanging accessories such as power modules, patch panels, wireless LAN boxes, cameras, drop outs, and other devices without impinging on cable load capacity, minimizing the need for equipment to be installed on the floor below. That also means fewer pieces, faster installation, and reduced costs.
Snake Tray can ship up to 70 segments of Mega Snake per pallet. Mega Snake sections nest together for maximum density to reduce shipping and inventory costs. Its unique stackable design allows for easier handling of materials by installers on the job site. Less packaging waste, too!
The increased connectivity and networking requirements of today's smart buildings means cable management systems can no longer be an afterthought. The Snake Tray 801 Series Mega Snake gives engineers and architects of most any commercial building another option besides choosing between yesteryear's underperforming generic wire mesh trays and expensive, inflexible metal ladders.
Electrical contractors and installers switching to Mega Snake will realize significant savings because it installs faster, is stronger, has greater capacity, and requires far fewer parts and accessory pieces than generic wire mesh cable trays to assemble and hang. But, chances are your cabling project will require more than wire basket trays to complete the job. You might need hand-bendable trays, risers, under floor trays, power distribution solutions, and aluminum or steel ladder runways. Why deal with multiple vendors when you can partner with just one? Snake Tray is a one-stop shop for all of your cable management needs, including the transitions and adapters to route cables off and onto any type of cable management system.
---
Snake Tray is a cable tray manufacturer who has revolutionized the data and power distribution market with cable management, power distribution systems and enclosures all designed to install quickly, reduce labor and material costs, and significantly drive down the total cost of construction. If you would like to learn more, visit us at snaketray.com. Our engineers and sales teams stand ready to help execute your next cabling project with maximum efficiency and profitability.