Electric vehicles (EV) are the future of transportation but when it comes to charging them it's still like the Wild West out there. Charging stations are few and far between. Variables like vehicle, cargo, and passenger weight, battery age, and the use of air conditioning greatly impact range, giving many EV drivers range anxiety on long trips.
Most Interstate highways and large population centers now have public charging stations, but good luck finding one on a secondary road or when passing through a small town. There are maps and apps that can guide you to the closest EV charging station, and then you must hope it has the right type of plug for your vehicle.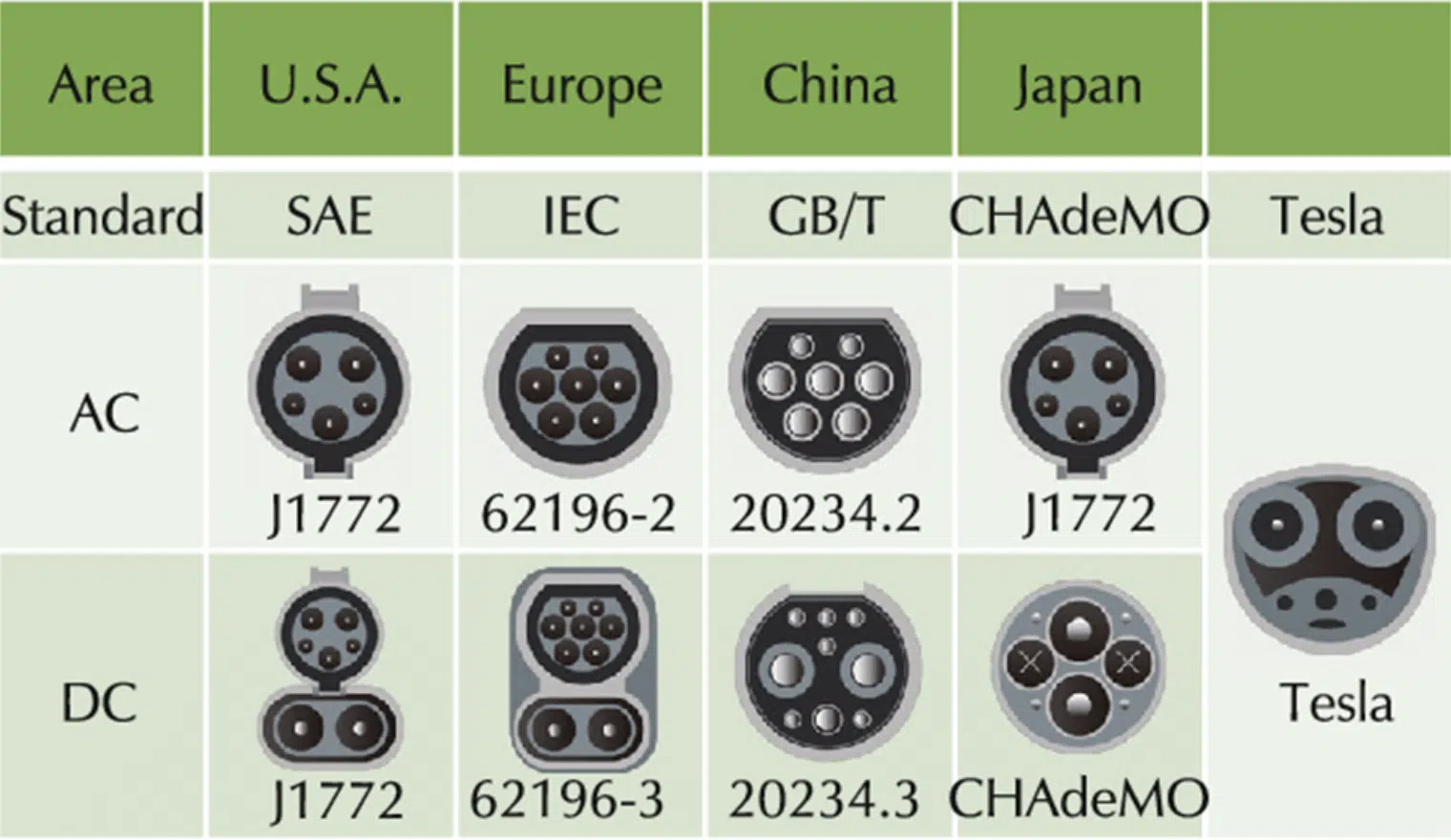 Today there are approximately nine different types of receptacles specific to EV manufacturers that support different types of current (AC or DC) and charging speeds (Levels 1, 2, and 3).
In North America there is a movement towards standardizing plug types, and it's been whittled down to three or four, but there's still a long way to go. And unlike pulling into a gas station to refill your tank and resume your trip in ten minutes, it could take hours to recharge a nearly depleted EV battery – after possibly waiting an hour or more for a compatible charging station to free up.
Clearly there is a need for a national EV charging infrastructure equal to the refueling network we've built for fossil fuel engines, but it's not as easy as dropping a gas station on the corner of every intersection.
Snake Tray Solar Snake Max XL for EV Charging Rises to the Challenge
Electricity must come from somewhere, and to borrow a phrase from the telecommunications industry, it's often the last mile that proves to be the greatest challenge. But it doesn't have to be.
Snake Tray has helped customers design systems that bring power to fleets of delivery trucks at distribution centers, and to offer EV charging in parking structures at corporate locations, hospitals, and hotels to meet sustainability goals.
Residential apartment complex garages are installing charging stations to attract EV owners, as are restaurants and highway rest stops for weary travelers to recharge on long journeys.
For any and all of these scenarios, the Snake Tray Solar Snake Max XL for EV Charging is a flexible, scalable, and universal solution to bridge that last mile.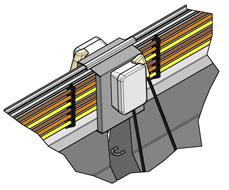 It standardizes how electrical contractors run main trunk lines that connect EV chargers to the power grid regardless of the vehicle plug type.
The Snake Tray Solar Snake Max XL for EV Charging leverages the concept of free-air cable conveyance to eliminate the effects of derate and power loss that occur when power cables are bundled or buried.
At the heart of every Snake Tray Solar Snake Max XL solution is the "click." These specialized insulated cable separators prevent the conversion of electrons into heat during energy transmission.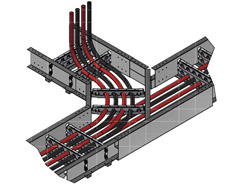 The Solar Snake Max XL meets NEC 310.15 requirements for the minimum spacing of up to 36 cables in sizes from 350 Kcmil up to 1250 Kcmil, allowing the heat of electrical friction to dissipate into the surrounding air.
The clicks can be strung along messenger wire attached to posts or brackets (top) or attached to prefabricated side rail components (bottom) to make connecting to arrays of EV charging stations fast and easy.
As EVs become a growing percentage of vehicles on the road we must build out the charging infrastructure to support them. In addition to unlocking the financial potential for commercial EV charging equipment providers, parking garages, and vehicle fleet and property owners, the Snake Tray Solar Snake Max XL for EV Charging helps overcome several other challenges facing the construction of a national EV charging network, including:
Lack of standardization

.

As mentioned, there are several different types of EV

ports

that

are

brand-specific, as well as dozens of

commercial EV charging station

manufacturers with model

s available in all shapes and sizes. There are indoor and outdoor units, free and paid charg

ing station

s,

models with

varying power output levels

/charging speeds

,

systems

with single and dual charging ports

,

and pedestal, ground-mounted, and wall-mounted

models. Until the industry shakes itself out and a winning form factor emerges there will be some chaos.

The Snake Tray Solar Snake Max XL for EV Charging i

s a

universal

solution

that

connects cables from

a

power source

/connection box

to any kind of EV charging station

equipped with any type of plug

.

Further, the

Snake Tray Solar Snake Max XL for EV Charging can be adapted for ground-, wall-, or even ceiling-mounted

routing

of cables to charging stations, indoors or out.

Snake Tray can even

help design, select, and procure the plug type(s) for your installation.

H

igh cost of installation

.

The high cost of installing EV charging stations is one of the

biggest obstacles

to adoption.

Free-air cable conveyance

eliminates the expensive, time consuming, and messy process of burying cables – not to mention the wasteful conversion of electrons into heat – in new construction projects, and

reduces the need

for labor intensive drilling or ripping up

concrete and

asphalt

when

retrofit

ting

existing parking structure

s

or

lot

s

with

EV charging stations.

The Snake Tray Solar Snake Max XL for EV Chargin

g

is easy to install

,

saving

thousands of labor hours for reduced installation

costs

, is adaptable to all types of building surfaces and contours

without the use of special tools or accessories

, and is impervious to outdoor conditions.

When ground-mounted, covers are attached to the side rails to keep the cables concealed and protected.

S

ecur

ity,

networking

,

and payment

communications.

It's one thing to run power to

free

charging station

s for employees or company vehicle fleets

, it's quite another to

manage

a

commercialized

EV charging network. Bi-directional

network

communication between the grid/

utility, the EV

provider

,

and

each

charging station is necessary

to

monitor

system performance,

track

power

consumption,

set pricing plans (by the Kilowatt hour or by the minute) and

process

financial

transactions to monetize the

charging service, and

enable security measures such as video monitoring to guard against theft and vandalism.

The Snake Tray Solar Snake Max XL for EV Chargin

g

manages

all

the cables running to and from EV charging stations, including

cables

for

power,

system monitoring,

network communications

an

d

credit card

transactions,

and

security in one conveyance.
As the backbone of a national EV charging network continues to emerge, Snake Tray will be there with flexible, scalable, and affordable solutions to connect commercial EV charging stations to the power grid and enable network communications with providers.
The Snake Tray Solar Snake Max XL for EV Charging is the only free-air cable conveyance system that is compatible all EV charging stations and port types to meet your EV charging requirements today, and is future-proofed to easily adapt to the new EV standards of tomorrow, whatever they may be.
Thinking of electrifying your parking facility to power EV fleets or to allow employees, tenants, patients, or guests to recharge while parked on your property? Are you a car dealership adding EVs to your lot, or a gas station, truck stop, or restaurant seeking to increase revenues by offering recharging services but concerned about the time and cost?
Contact us to learn more about how the Snake Tray and our Solar Snake Max XL for EV Charging can bring clean energy to vehicles to meet your sustainability and profitability goals.