Welcome to the future of AI Data Centers Cabling. As Artificial Intelligence continues to reshape the tech landscape, the demand for efficient and advanced cabling solutions in data centers is soaring. In this article, we explore how Snake Tray is revolutionizing the cabling infrastructure to meet the unique demands of AI-driven data centers. Read on to discover how you can future-proof your data center for the AI era.

The Crucial Role of AI Data Centers Cabling in Powering Advanced Computing
Artificial Intelligence (AI) is everywhere, at least in the news anyway. It seems like every day we hear new stories about the latest advancements in AI solving another of the world's great mysteries.
In reality, AI is still in its infancy and its true power is only now being tapped by the largest private enterprises, government agencies, and Tier 1 data centers that can afford to build their own high-performance computing (HPC) facilities for AI/Machine Learning applications.
A big part of the reason for that is power and cooling. AI computing increases energy consumption by a magnitude of four over traditional data center computing activities. Many on-premises or mid-tier data centers simply do not have the cabling infrastructure to accept and deliver quadruple the power required by HPC assets like multiple graphics processing units (GPU) or to manage the tremendous amount of heat generated by AI computing. That's a problem for many businesses going forward as AI/ML becomes truly omniscient.
Thanks to Snake Tray and the infinite versatility of its click-based patented Snake Max cable management system, that is changing.
Why AI Data Centers Cabling Requires a New Approach
To get in on the lucrative game of offering AI/ML-capable services to customers, data centers and cloud service providers are expanding again, upgrading their computing infrastructure and power delivery systems to match. That means bigger cables connecting data centers to utilities to bring more power into the building, and bigger cables to distribute power to HPC hardware and infrastructure throughout the building.
Whereas most existing data centers currently are running banks of 100 to 200 Kcmil cables inside the structure to power racks of servers, they will need to upgrade cabling to 400 to 800 Kcmil – or higher if the cables are touching to offset derate – to power HPC AI/ML operations.
New AI-enabled data centers and data center additions are being designed with AI computing in mind from inception, so they are coming online with greater energy throughput capabilities.
Either way, that's a lot more weight to carry, a lot morecables to organize, and a lot more electrons that will be converted into wasted heat if the cables are not properly separated, costing more to cable and cool the AI-enabled data center.
Revolutionizing AI Data Centers Cabling with Snake Tray
The newest addition toSnake Tray's growing family of free-air cable management systems. It is Snake's Tray's answer to the power challenges of the new AI data center.
The Snake Max for AI Data Centers is specificallydesigned to meet the demands of conveying high ampacity cables inside and outside the data center to support AI/ML computing.
Prefabricated, turns, tees, intersections, and vertical elevation components make installations quick and effortless.
The key component is what Snake Tray calls the click. Snap-in cable managers or clickseasily attach to side rails to maintain NEC 310.15code compliance for cable separation so there is no need to derate cables.
These insulated cable separators allow the heat of electrical friction to dissipate into the surrounding air, so cables operate at cooler temperatures for greater energy efficiency and a better ROI.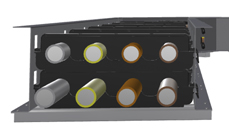 The Snake Max for AI Data Centers accommodates cables from 350 up to 1250 Kcmil, and holds them all in a small footprint to organize and route cables in tight indoor spaces.
To create the additional energy needed to power an AI data center and offset utility costs, some data centers are transforming their vast open rooftop spaces into renewable energy fields.
The Snake Max for AI Data Centers can help there too, carrying DC current from rooftop solar panel arrays to AC inverters on the premises to generate clean, free power.
Futureproof Your Data Center
for AI
with Snake Tray
What started as a tool for outdoor utility grade solar plants to speed installation and save material costs has evolved into a total solution that is being used throughout the entire energy lifecycle from creation to consumption: conveyance in the field to battery storage to EV charging stations across many different industries and applications.
Adopting that same proven principle of free-air cable conveyance and the Snake Tray click to bring greater amounts of power to advanced computing resources is simply the next logical step.
With Snake Tray, data centers of every size can stay ahead of the curve and begin to offer AI computing services to customers with minimal disruption to operations and no need to rip up concrete.
Contact us to learn more about how the Snake Max for AI Data Centers can help your data center perform better in the age of AI.