Because we invented them, that's why. Twenty-six years ago, our founder had an idea to revolutionize the cable tray industry and Snake Tray was born. The concept was simple: Create a hand bendable cable management system for the fast-growing yet underserved low voltage/data connectivity market using only the bare minimum of materials.
Cable hoops with built-in mounting hardware welded to a high strength steel spine produced a lightweight cable tray with the strength to support up to 400% of the maximum UL rated cable weight load without sagging when supported at four- to five-foot intervals—yet flexible enough to allow installers to shape without tools or waste. As a result, it is physically impossible to overload our cable trays. Snake Tray hand bendable cable trays are immune to failure!
The ability to create turns of any degree, manage elevation changes, map cable pathways to building contours, navigate around any obstacle, and mount to any surface in seconds without field fabrication or waste dramatically cuts construction time and cost. Architects and electrical engineers tasked with designing modern buildings recognized these benefits and adopted the concept of the hand bendable cable tray.
Today, Snake Tray offers an entire portfolio of hand bendable cable trays in multiple sizes, shapes, and finishes. We offer solutions for specific applications ranging from underneath raised access floors 101 Series Snake Tray to wall and ceiling mounted cable pathways (201, 454 and 501 Series Snake Tray) as well as the 401 Series Snake Tray Mini Cable Manager and the 701 Series Snake Tray for MC Cable.
An idea ahead of its time
Let's rewind a bit. Twenty-six years ago, there wasn't much call for low voltage/data communications cabling; there was a telco closet and that was about it. Wires other than telephone and AC power were not considered part of building infrastructure and were often treated as an afterthought. Data cables were stapled to walls, strung along a series of J-hooks, or simply laid on top of drop ceiling tiles. (Remember the days before networks when data sharing meant copying a file to disk?)
As computer networks grew more intense, low voltage cabling needs came to the fore. Architects adopted wire mesh basket trays, common in Europe at the time, to organize and route low voltage cables from the main distribution frame (MDF) or intermediate distribution frame (IDF) out to workstations and cubicles throughout a building. Some even began to design dedicated cable pathways to create separation from HVAC, electrical, plumbing, and fire suppression systems.
The European-inspired wire mesh basket trays were a good first step, but overkill. Constructed from rigid steel they were expensive, occupied more space, needed additional hardware and trapezes for mounting, and required laborious cutting and field fabrication to create turns or navigate around obstructions. At the time there just weren't enough low voltage cables to justify the expense of such a time and labor-intensive solution. Why install a six-inch deep heavy duty basket tray with a 300+ cable capacity to carry a dozen Ethernet cables? But engineers could justify a flexible cable management system that took 10 seconds instead of 20 minutes to complete a turn.
Time is money
Today, everything is networked. There isn't a building under construction or undergoing renovations that doesn't consider data cabling a critical part of project infrastructure. In addition to data networks and telecommunications, there are cables that enable building management systems (BMS) to automatically open doors, turn on lights, control climate, and conserve energy. There are low voltage cables for security systems, audio systems, wireless access points, and power over Ethernet (POE) lighting. Beyond the sheer explosion in the volume of low voltage cables, today's category 5 & 6 data cables and fiber optic lines are more delicate. They require consistent support and protection across the entire run as they operate at much higher bit rates and are more susceptible to damage. Cable management is now an integral part of building design.
The bottom line is that Snake Tray hand bendable cable trays are the best in the industry because they:
greatly decrease the amount of material required without sacrificing strength
significantly reduce the number of hours and laborers needed for installation to slash construction time and costs by up to 50% over traditional wire mesh basket trays
Hand Bendable Cable Trays for Every Application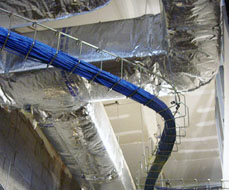 When you think about it, there are only two kinds of buildings: existing and new construction. It doesn't matter if the structure is a school, hospital, museum, office building, production studio, manufacturing facility, warehouse, restaurant, or retail space. It's either standing, on the drawing board, or under construction. Snake Tray hand bendable cable trays are extremely versatile, lightweight, and affordable solutions for any structure that needs low voltage cable conveyance, which today means everystructure.
Retrofits and Redesigns
Snake Tray hand bendable cables trays are hands-down the best cable conveyance systems to use in renovation work where the building has very few or no defined pathways for low voltage cables. Excellent for tight spaces and to navigate around pre-existing infrastructure, Snake Tray's flexible cable trays are the most efficient means to run hundreds of low voltage and data lines around all the obstructions in buildings that were never designed for today's modern communications and networking technologies simply by bending the tray as needed. Think about the time and cost to fabricate the many turns required to work around every pipe and duct using traditional basket trays. Snake Tray brings even landmark buildings into the 21st century!
New Construction 
When planning new structures, Snake Tray products easily integrate into original building design with minimal interference to HVAC and other building subsystems. Pathways can be installed quickly with capacity built in for future growth. Speeding cable tray installation in turn speeds cable loading, which accelerates entire project timelines. A range of finishes and colors allow for coordination with any décor if the trays are to be visible.
Nothing Beats a Hand Bendable Cable Tray from Snake Tray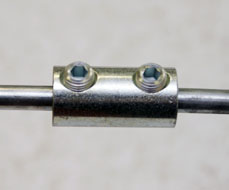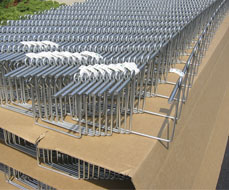 Snake Tray offers hand bendable trays with cable capacities ranging from just a few low voltage lines to up to 600 cables in a single tray. Made in the USA, our trays nest together for compact and cost-effective shipping efficient material handling on the job site. Tray sections connect together in seconds with a single in-line bolt that creates both a mechanical and electrical bond, and all feature an open architecture design for easy loading and unloading of cables. Built on the principle of minimalist design, Snake Tray hand bendable cable trays exceed the strength of comparable wire mesh basket trays for less. Less materials, less labor, less costs.
Should your cabling needs extend to high-capacity applications such as data centers, network operation centers, utilities, and renewable energy plants, we've got you covered there as well. Snake Tray offers an entire catalog of pre-fabricated metal basket trays, steel and aluminum ladders, and solar cable management systems for heavy duty power and data cable loads. Learn more about how we can help slash your construction costs at https://www.snaketray.com/product-catalog/snake-tray/ and contact us at snaketray.com.