We live in an increasingly wireless world, yet wires aren't going away. In fact, today there are more wires and cables than ever keeping us all connected – we're just getting better at hiding them, that's all.
This articles discusses why Snake Tray's Snake Canyon is the ultimate solution for buildings with raised access floor buildings
Beyond traditional AC power and twisted-pair telephone lines, there are coaxial and Cat 5/6 Ethernet cables, delicate fiber optic lines, and low voltage wires for security systems, audio, and building management system (BMS) occupancy sensors spreading out like a central nervous system to every corner of a structure. It's only "the last mile" (and in reality just the last few feet) of a connection to a device that is wireless, or at least appears that way.
One of the best ways to run cables to exactly where they need to be is to leverage the interstitial space between a raised access flooring system and the true floor. Raised access floors are popular in data centers, call centers, trading floors, law enforcement command/911 emergency response centers, casinos, air traffic control towers, as well as commercial office buildings and retail spaces where rapid reconfiguration of floor space may be required. Computer access floors create a physically separate yet easily accessible space for architects to run building systems such as HVAC, plumbing, various mechanical and electrical services, and yes, cables.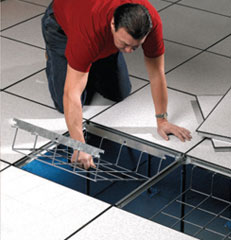 Rather than simply laying cables on the bare floor, Snake Tray has revolutionized the concept of cable management under raised access floors with the prefabricated 301 Series Snake Canyon® cable tray system. It keeps cables concealed, organized, and protected while maintaining building ergonomics.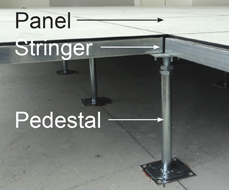 Snake Canyon is a patented, modular cable management system available in Latch-Loc and Cam-Loc versions to easily integrate with any type of 2' x 2' raised access floor, including stringerless floors, in either new or existing installations. Snake Canyon leverages the structural elements of the raised access floor support grid already in place for stability, strength, and to prevent tray movement – without any additional accessories and just minimal labor.
Run cables under open spaces for easy accessibility and branch off cables directly to equipment exactly where needed. Simply lift the floor panels and install Snake Canyon basket tray segments in a matter of seconds to create a bonded cable pathway safely separated from under floor HVAC ductwork and utility lines. In new construction, install the Snake Canyon and access floor simultaneously.
Snake Canyon basket trays are available in 22" widths at depths of 2", 4", 6", 8", and 12" to safely carry hundreds or thousands of cables. Half basket designs (11.5" wide) are available to allow for easy access to utility lines and ductwork below the cable path, and they can even be installed in cantilevered fashion to create multiple tiers to separate cables by technology.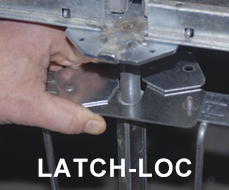 Elevate Your Cable Plant with Snake Canyon
Snake Canyon is the fastest, easiest way to create a new cable path above under-floor utilities. Here's why:
Enhances building ergonomics. Keeps cables organized and out of sight to maintain the clean appearance of occupied spaces.
Reduces labor costs. Installs in seconds to reduce total man hours, no specialized tools or labor skills are required. Open architecture supports the fast and easy loading of cables.
Maintains proper air flow. Does not interfere with under-floor pressurized air systems.
Creates concealed pathway with safe and easy access. Brings the cable plant to the surface. No ladders are required for cable installation, maintenance, or additions. Just lift floor tiles to expose the cable run.
Protects delicate cables. Provides continuous support to shield thin fiber optic, network, and low voltage lines from damage.
Eliminates on-site fabrication. No cutting, no grinding, no zinc whiskers. Available in stainless steel and powder coated finishes.
Trays can be moved and reused infinitely. Easily reconfigure cable pathways reusing the same trays to accommodate changes required by growth, expansion of services, or building renovations.
Complies with all floor manufacturers' warranties. Integrating Snake Canyon will not damage, impact your investment in, or void the warranty of the raised access flooring system.
Trays nest together for compact and cost effective shipping. Easier for installers to handle at the job site. Less packing materials reduces waste, weight, and fuel costs.
Enjoy these cost and labor-saving benefits of Snake Tray's 301 Series Snake Canyon in your next under floor cabling project. Contact us to learn more about why Snake Canyon is the ultimate cabling solution for buildings with raised access floors, and let our engineers help design your next under-floor cabling solution.