The Solar Snake-Loc Hanger is a game-changer in solar cabling management. With its unique design and durable materials, it's set to revolutionize solar installations, saving time and cutting costs. Read on to see how this innovative product delivers a performance that lasts a lifetime.

Solar Snake-Loc Cable Hanger: Squeeze Solar Cabling Installation Costs
The Solar Snake-Loc Cable Hanger is the newest member of the Snake Tray Cable Hangers family. Designed to securely carry bundles of string cables and feeder cables up to 750 Kcmil from rows of solar panels to a combiner box, the hangars attach to suspended tensioned messenger wires.
Innovative Solar Cabling Design
The patented Solar Snake-Loc's dual pockets offer an enclosed loop to contain and support string cables, plus an open side pocket to allow for multiple egress points of cables along the run.
The top loading design allows installers to quickly drop cables into the hanger loop. The squeeze lock feature attaches to messenger wire in seconds without tools or training, dramatically cutting the time and labor costs of installing cables.
The hangers are held securely in position on the wire by the force of the squeeze lock. This maintains the NEC-required spacing of two-foot intervals for cables smaller than 350 Kcmil, yet still provides sufficient support and flexibility against wind and other forces of nature.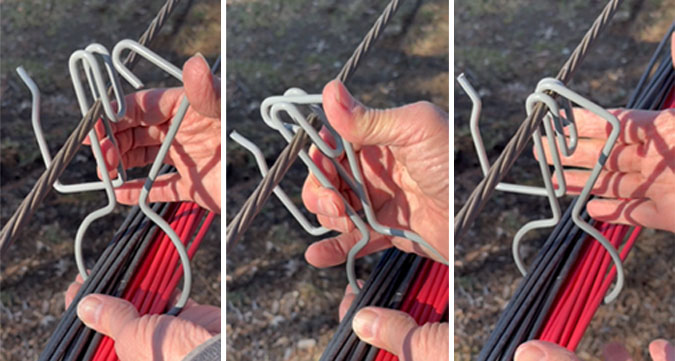 Solar Cabling: Environmental and Functional Superiority
Not only is the Solar Snake-Loc easy to install, but its powder coated finish over the hot dipped galvanized substrate offers extremely high dialectic strength for improved performance and corrosion free for longevity.
Dubbed Snake Skin, the insulative coating on a Solar Snake-Loc Hanger will last for decades, withstanding higher voltages, higher temperatures, and never rubbing off for a long-term solution.
Versatility and Availability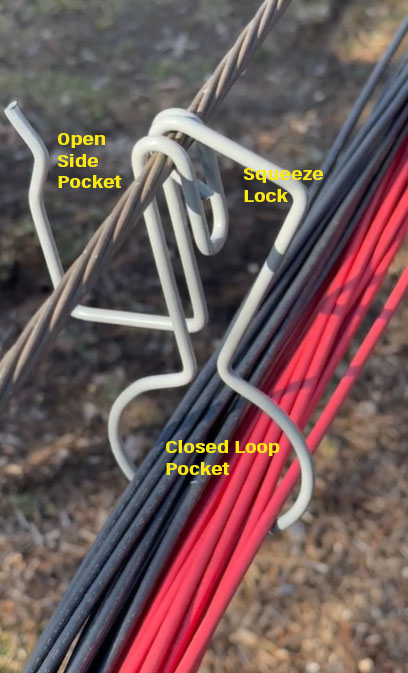 On the flip side, electrical contractors have found the Solar Snake-Loc to be a versatile solution for temporary lighting and power needs in all sorts of industrial environments.
They detach as easily as they attach, making them totally portable and reusable during building construction projects, in subway and transit tunnels, and are also great for bringing light and power to mining operations.
The simple configuration of the Solar Snake-Loc lends itself to countless applications yet to be discovered.
Made in the USA, in stock, and available for immediate delivery, the Solar Snake-Loc is ready to tackle your string cable management and electrification needs wherever the current takes you. This product is patent pending.
Contact us to learn more about how the Solar Snake-Loc can save you time, money, and deliver performance that will last a lifetime.