Snake Tray invented the Solar Snake Max XL. The world's first above ground free-air cable conveyance system designed to help utility-grade solar installations overcome the challenges of burying cables. In addition to eliminating the time, expense, and messy process of digging and filling trenches with miles of DC cables, free-air cable conveyance maximizes energy harvest by preventing the heat buildup that occurs when high ampacity cables are bundled or buried.

Maximizing Energy Harvest with Free-Air Cable Conveyance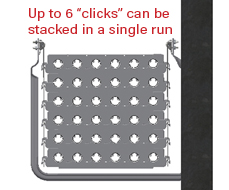 Solar Snake Max XL eliminates the conversion of electrons into heat during transmission by maintaining uniform separation for up to 36 cables over the entire length of a run. Specialized suspended insulated separators, called clicks, meet NEC 310.15 requirements for individual cable spacing from 350 Kcmil up to 1250 Kcmil. Better than dissipating heat, the separation also prevents heat from ever occurring, maintaining maximum possible energy throughput.
Enhancing Energy Efficiency and Revenue with Solar Snake Max XL
Utility-grade solar plants have embraced Solar Snake Max XL as it allows for smaller conductors to be used to their full capacity to reduce material expenses, while increasing daily energy harvest to yield up to 30-watt hours per meter more energy than traditional trenching and above ground cable bundling methods to increase revenues – wins on both sides of the balance sheet!
Expanding Applications of the Solar Snake Max XL System
But as it turns out that's just the beginning of the story. Today, various implementations of Solar Snake Max XL carry energy created from solar panels in the field to inverters and out to the power grid, to battery storage systems for energy after sunset, and to arrays of charging stations for fleets of electric vehicles.
Solar Snake Max XL Free Air-Cable Conveyance System Evolves into a Family of Products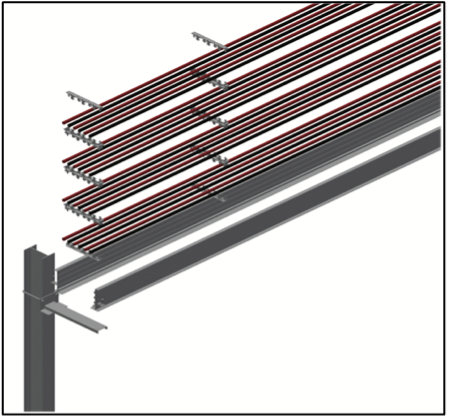 The original Solar Snake Max XL Hard Rail System was designed to carry DC cables from the end of each row of solar panels to an inverter or disconnect module. The cables are supported by brackets attached to vertical pilings that support the solar panel racking system. Clicks positioned at 4.5-foot intervals attach to aluminum side rails to provide stability and maintain optimal spacing between cable layers. The self-supporting nature of Solar Snake Max XL version is excellent for managing cables that must move left, right, up, or down over changing terrain conditions on their way to a fixed termination point.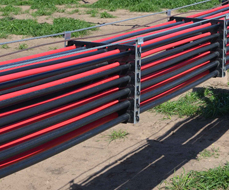 Sometimes, though, pilings and hard side rails are not required. The Solar Snake Max XL for Messenger Wire is excellent for long, straight runs from solar panel arrays to interconnection areas using a minimal amount of hardware. The same clicks holding the cables are attached to messenger wires at 4.5-foot intervals and anchored with 2,000 to 5,000 lbs. of tension at each endpoint to support the run.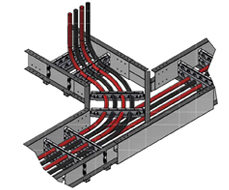 As solar plants began to produce more energy than they consume, utilities needed a place to store excess power. That facilitated the rise of large battery arrays – some as big as an 18-wheeler – and the introduction of the Solar Snake Max XL for Battery Energy Storage System (BESS).
It uses the same snap-together Solar Snake Max XL clicks adapted for battery cable conveyance. It maintains the principles of free-air cable conveyance at ground level, but the cable separators are mounted to galvanized aluminum hard rails for increased strength.
The same cables that feed excess DC energy into the batteries are also used to push power out of the batteries, into the AC inverter, and out to the power grid. When that switch is flipped, a tremendous amount of heat is instantly generated as current flows through all the cables.
This is where the benefit of free-air installation comes into play, allowing for maximum energy transfer between battery and inverter, generating up to 30-watt hours per meter more power than can be collected from a bundled cable system.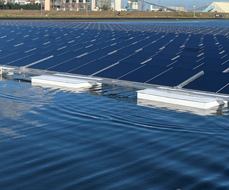 Always searching for ways to increase clean energy production, a major utility in the southeast United States approached Snake Tray wanting to utilize the plant's retention ponds – reservoirs holding and recirculating condensate from the steam turbines after the water cools – as an area for a floating solar farm, and the Solar Snake Max XL for Water Installations was born. In this application, the clicks are attached to stainless steel side rails to provide a corrosion-resistant frame. Each section is mounted to a floating pontoon, and the serpentine sections naturally expand and contract in conjunction with varying pond water levels and weather activity on the surface to create a stress-free cable transition to the shoreline.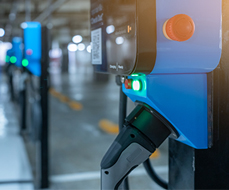 Today, as the electric vehicle (EV) market reaches critical mass, there is a tremendous need for charging stations and infrastructure to power fleets of EVs. When dozens or hundreds of electrified buses, trucks, and delivery vehicles return to their distribution centers, they will plug in to recharge overnight, and the Snake Tray Solar Snake Max XL for EV Charging will be right alongside them. Cables pushing power from batteries to recharge stations in the parking lot will be managed by the Solar Snake Max XL for EV Charging and its ubiquitous clicks.
In this application, vehicles will charge faster and at less cost because free-air conveyance of the Solar Snake Max XL maximizes energy throughput.
It's All About the Click
The common denominator in all these solutions is the click and its ability to mitigate heat buildup during energy transmission for a better ROI. It's the secret sauce of the Snake Tray Solar Snake Max XL.
With the click, Snake Tray can change the conveyance method – rails, messenger wire, ground mount – to meet the needs of any environment while maintaining the core benefits of keeping cables separate, organized, and able to realize an organization's full investment in renewable energy.
Contact us to learn more about how the many iterations of the Solar Snake Max XL can be used across the entire lifecycle of renewable energy creation, storage, and consumption.