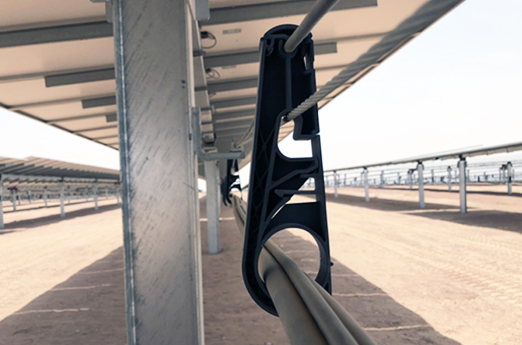 Solar Snap Snake Tray® – The Revolutionary New Cable Hanger for Solar Installations!
Solar Snap Snake Tray is deceivingly simple in appearance, but actually is an integrated cable routing system for two 500 kcmil cables, one ground cable and a ¼" messenger wire.
A lower profile than alternative products, Solar Snap Snake Tray reduces the chance of damage to the conductors and provides for a generous maximum load weight of 65 lbs.
The unique design is suitable for services carrying #10 string wires but also strong enough for more heavy-duty cables.
Holding up to two 500 kcmil cables with no need to de-rate.
This compliments our Solar Snake Max XL cable management system.
Ultra-narrow profile, light weight and corrosion free
Easy and fast "plug and play" installation reduces labor costs
Safe installation through special closure system
Up to 30 years of UV protection
One solution for all cables
Exceptional reliability in extreme weather conditions
Have Questions?
Talk to a product specialist today:
1-800-308-6788