Snake Canyon has revolutionized the way cable can be installed in computer access floors. This modular cable tray system instantly integrates with the existing structural elements of an access floor to create the fastest to install under-floor cable tray.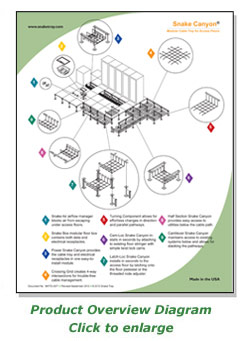 One-piece drop-in cable tray module
♦ As little as one tenth the labor to install when compared to other methods
♦ No additional hardware or mounting legs required to buy, engineer, or ship
♦ Trays interface with 2″ x 2″ floor grid to install anywhere
♦ Trays integrate with floor for strength and durability
♦ Maintains proper air flow under the floor
♦ Brings cable plant to the surface for easy access
Snake Canyon can be installed in any floor style, including stringerless floors
♦ Universal solution for all access floors systems
Snake Canyon integrates with the access floor structure
♦ Creates a new cable path above supplementary utilities
Installation requires no complicated hardware or techniques
♦ No specialized labor or tools are required to install Snake Canyon
Trays can be relocated and reused
♦ Can easily reconfigure to accommodate any future design plans
Creates ergonomic cable pathway for safe and easy access
♦ Less wear and tear on installers, and easy access to the cable
Half baskets and turning components available
♦ Trays can be easily configured for any cable plan
Superior Finishes
♦ Snake Tray's unique mechanically applied galvanizing process eliminates the growth of zinc whiskers.
♦ Stainless Steel and Powder Coating also available for all trays.
Quality and Service
♦ Snake Tray ships from inventory the day it is ordered
♦ Customer service available 24 hours
♦ UL Classified
♦ EIA/TIA and NEC Compliant
♦ Made in the US
Complies with floor manufacturer's warranties