JUST HOW FAST IS SNAKE TRAY?
SnakeTray's patented hand bendable design allows installers to create turns in 10 seconds versus 20 minutes with wire mesh cable tray.
read more...
News from the SnakeTray Blog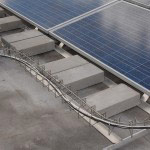 Choosing the right mounting and racking system might seem like your biggest task, but don't forget
read more...
HAVE Questions on HOW SNAKETRAY CAN HELP YOU?
TALK TO A PRODUCT SPECIALIST TODAY:
1-800-308-6788